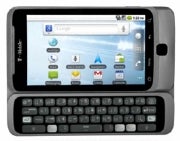 T-Mobile's superfast G2 Android phone is out for pre-orders Friday, in the carrier's latest attempt to compete with AT&T's iPhone 4 and Verizon's Droid X.
Arriving in stores October 6, the T-Mobile G2 is the latest in a long line of Android phones, but does it have what it needs to topple the best-selling smartphones in the U.S?
If you are an existing T-Mobile customer you can now pre-order the T-Mobile G2 by October 4, so it gets delivered to you by October 6, when the phone hits the stores for everyone else. The G2 comes for $200 with a two-year contract with T-Mobile, or for $500 unlocked after October 6.
T-Mobile G2's features are standard for the current smartphone lineup. It comes with a non-customized installation of Android 2.2, an 800MHz processor, and 512MB of RAM memory. The display is 3.7 inches, and the camera snaps 5-megapixel photos (with flash) and can also record HD video. Frequent email and text messaging users will appreciate the slide-out full QWERTY keyboard, which at the same times makes the phone a bit bulky.
What makes the T-Mobile G2 stand out, though, is the phone's HSPA+ chip inside, which can handle data speeds of up to 14.4 Mbps. T-Mobile operates its HSPA+ network in 55 U.S. cities, and claims you can get speeds of up to 19 Mbps in some places like Philadelphia. In PCWorld's own testing of the T-Mobile network in New York City, top speeds of around 10 Mbps were measured. In comparison, Sprint's new WiMAX network promises speeds of up to 6Mbps.
As my colleague Mark Sullivan explains, all these supposed much faster speeds on the T-Mobile G2 will make most of the activities like downloading e-mail, viewing maps, or reading news become very fast, as well as loading Flash pages (thanks to Android 2.2). Unfortunately, the T-Mobile G2 doesn't have a front-facing camera for video chat or hotspot capabilities (so far) to take advantage of the network speeds.
However, if you are on the market to buy a Android phone with a physical keyboard that runs on T-Mobile's network, the T-Mobile G2 is your best bet. If you still haven't chosen between the iPhone 4, Verizon Droid X, and now the G2, click here for our smackdown comparison of the phones.