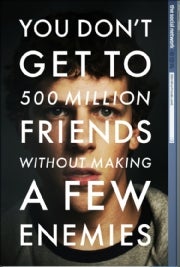 The Social Network a.k.a. "The Facebook Movie" doesn't open nationwide until October 1, but early reviews are already giving the movie a big thumbs up. Starring Jesse Eisenberg as Facebook founder Mark Zuckerberg, The Social Network focuses on the friendships between the site's founders and early scandals that plagued the company. The film kicks off The New York Film Festival on Friday, and some critics were treated to early screenings.
The social network "is an epic tour de force about the people behind the site that defines our time," says ABC News entertainment writer Sheila Marikar.
Fakebook?
That's high praise for a film about a Website, but the problem is that the events in the movie are either complete fiction or a highly dramatized version of actual history. The movie is based on Ben Mezrich's book The Accidental Billionaires. Mezrich describes his work in an author's note at the front of the book as a "dramatic narrative account [of Facebook's founding] based on dozens of interviews, hundreds of sources and thousands of pages of documents, including records from several court proceedings."
Facebook has apparently been working on a public relations campaign in recent weeks hoping to counteract any damage the movie might do to the company's image. And it's not hard to see why since Zuckerberg is portrayed in the movie as a "shifty-eyed creep whose motives can't be reduced to a simple yearning for fame and fortune," according to Variety's Justin Chang.
The New Yorker featured an extensive profile of Zuckerberg earlier this month, and Zuckerberg is expected to announce on Friday a $100 million grant to Newark, New Jersey's public schools. The grant will reportedly be announced alongside Newark Mayor Cory Booker and New Jersey Governor Chris Christie during a taping of The Oprah Winfrey Show. The announcement comes after Winfrey featured a documentary on Monday that takes a highly critical look at the state of American public schools.
Some of Facebook's supporters are also making their voices heard prior to the movie's launch. The Washington Post on Friday published an opinion piece entitled "Five myths about Facebook," by David Kirkpatrick, author of The Facebook Effect. It's worth noting that Donald Graham, Washington Post Co. chairman and chief executive sits on Facebook's board of directors.
Critics Like Facebook Flick
If you're wondering how a movie about Facebook could be causing this excitement, here is the latest buzz about The Social Network.

"A mesmerizing, bewildering and infuriating protagonist makes this movie about Facebook's creation a must-see," said Kirk Honeycutt for The Hollywood Reporter . While Variety's Chang said The Social Network "continues [director David] Fincher's fascinating transition from genre filmmaker extraordinaire to indelible chronicler of our times."
The New York Post's Lou Lemenick said the movie is "the finest film in many years to open the New York Film Festival" and "a timeless and compelling story that speaks volumes about the way we live today." IndieWire's Todd McCarthy called the film " a knock-out-on a first viewing, it seems almost indecently smart, funny and sexy."
Despite this praise, however, Fortune's Jessi Hempel, who says she has known Zuckerberg since 2005, might sum up Facebook's concerns best. Hempel said her first reaction after seeing the movie was "Wow, so that's how it really happened." That's despite Hempel's familiarity with Zuckerberg and Facebook's history. The Social Network, as Hempel puts it, "will go down in history as the company's creation myth."
That idea just might be keeping Facebook execs up at night.
Follow Ian Paul and Today@PCWorld on Twitter for the latest tech news and analysis.