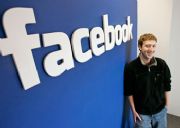 Facebook CEO Mark Zuckerberg is embarking on what's being deemed a PR tour — including today's scheduled appearance on Oprah about his $100 million donation to Newark, New Jersey schools. If this donation was coming from someone else — say Steve Jobs, who, in many people's eyes can do no wrong — it'd be seen for what it is: a gift. Rather, some media is calling this a not-so-subtle effort to patch Zuckerberg's tattered, foul-mouthed image, and a preemptive evasion of criticism likely to stem from The Social Network, which debuts at the New York Film Festival today. So why all the ire?
It's more than a little startling how many journalists are taking this as an opportunity to sucker-punch Zuckerberg rather than applauding what should otherwise be seen as charity and good will.
Augie Ray, an analyst at Forrester Research, told Computerworld that the timing of Zuckerberg's donation "might seem coordinated with the release of the film," and that, despite his donation being "part of a longer-term effort for Zuckerberg to give back to others," Zuckerberg is attempting to improve his reputation.
eWeek tosses around Zuckerberg's recent catapult up the Forbes 400 list to become the 35th richest man in America — surpassing Steve Jobs — before deriding him for Facebook's privacy troubles. Yes, Zuckerberg did sweat like Nixon when confronted with these issues at the D8 Conference, but it wasn't as though he was personally responsible for every supposed violation. Mentioning Zuckerberg's wealth, and ignoring the $100 million, seems like skewed journalism to me.
ZDNet's Christopher Dawson's article about the donation has the contemptuous gall to ask in the headline why Zuckerberg is being philanthropic. He asks, "Am I just being cynical, or is the timing, scale, and nature of Zuckerberg's donation to Newark Public Schools just a little, well, off?"
Though Mashable's Blake Robinson asks readers not to taint Zuckerberg's donation with speculation, he can't help but add that it "could also be aimed at counteracting any negative stigma that could arise from his new rank on the Forbes 400," as though wealth alone denotes some degree of evil.
Some sources dodged the impulse to knock out Zuckerberg's kneecaps and focused instead on the sad plight of the New Jersey school district Zuckerberg is trying to help. Bloomberg notes: "Of the 164 chronically failing public schools in New Jersey, 38 are in Newark, [Derrell Bradford, executive director of Excellent Education for Everyone] said. Excellent Education for Everyone defines such schools as those where 40 percent or more of the students fail state math and language tests for two years, or 65 percent fail either test."
Arianna Huffington calls the media's relentless bashing of Zuckerberg a troubling sign of the times. "So the $100 million donation to Newark's crumbling public schools is not in and of itself the story? The story is figuring out the motivation behind it? Is this what we have come to? Can you think of anything more ridiculous?" Huffington writes.
Not to say Zuckerberg is without fault. He has certainly had his troubles with Facebook's privacy policies and his apparent disregard for its users, and they have all been widely publicized. But put down your torches and pickaxes and look closer: think not of Zuckerberg as the conniving Harvard dropout everyone believes him to be, but rather, at this moment, a selfless philanthropist who is giving away his own money to a good cause.