Verizon CEO Ivan Seidenberg told investors that he would welcome the opportunity to sell the Apple iPhone, but the tone of his comments seemed doubtful that it would happen soon. The comments from Seidenberg suggest that no iPhone is impending despite rampant rumor and speculation that Verizon will offer the Apple smartphone in early 2011. Perhaps it will always be Verizon and Android against AT&T and the iPhone.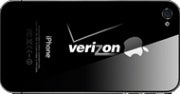 After years of rumor and speculation the Verizon iPhone is still as elusive as Big Foot or the Loch Ness sea monster. The rumors gain steam, then fade away, then surge back again, but still no iPhone. The tech gossip cycle fluctuates between speculation about what the next Apple iPhone or iPad will look like, and rumors about ending the AT&T exclusivity and offering Apple mobile devices through other vendors–namely Verizon.
Consider for a minute the number of feathers that would be ruffled if an alliance between Verizon and Apple ever occurs. Android smartphone vendors like Motorola and HTC that have partnered with Verizon on the hugely successful Droid brand would feel betrayed. AT&T which has a virtually monogamous relationship with Apple, and has essentially done nothing but pay lip service to other smartphone platforms would suddenly be left in the cold.
What if Verizon simply never gets the iPhone, though? Perhaps the rumors and speculation are part of a covert strategy to stifle iPhone sales? By constantly dangling the carrot of an impending Verizon iPhone, the rumors give disgruntled AT&T customers reason to hold off on getting an iPhone in hopes that they will soon be able to switch to Verizon.
Given the prevailing sentiment of network issues and poor service with AT&T, many customers would consider jumping ship to grab a Verizon iPhone. Of course, it's possible that the issues lie as much with the iPhone itself as with AT&T's network, and those under the illusion that the iPhone is infallible may find a Verizon iPhone just as disappointing.
Various sources have conducted surveys and drive media headlines with statistics related to how many AT&T iPhone customers would happily leave for Verizon, or how many millions of current Verizon customers would anxiously embrace the iPhone if it were available. The concept obviously has mass appeal, or it wouldn't continue being such a hot topic.
Apple is limiting the potential of the iPhone by restricting it to a single wireless carrier, and analysts have suggested that iPhone sales would double if the AT&T exclusivity ended, so it seems reasonable that Apple will one day offer the iPhone with other carriers. But, it may not be in early 2011, and it might never be Verizon.