This week Viral Views takes a look at advice-giving animals, letters between friends, and a rendition of Star Wars that would make George Lucas jealous.
The perfect combination of adorable and ironic, Hipster Kitty wears his hoodie and glasses with pride. Gain some underground cred and talk to be people about bands that they have never heard of (it helps if you make them up as you go).
See also: One of our editors' alternate (but–shockingly enough–unrelated) iPad-created renditions of Hipster Kitty: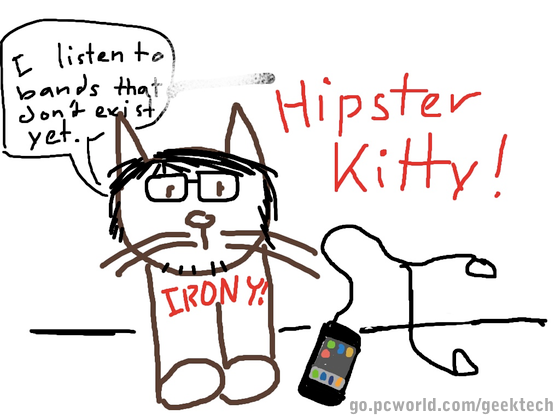 Dear Internet,
Please keep up the crazy, we are huge fans.
Sincerely,
Viral Views
Before I met Courage Wolf, I was a meek little boy. Now I'm a superman among men, tearing phone books in half and eating spoonfuls of cinnamon for breakfast (and not in the Cinnamon Toast Crunch sense either).
Vark.com is best described as Yahoo Answers on steroids. Ask a question, and get an answer from someone who actually has some idea of what they're talking about.
All right, it's been 17 years since Super Mario Bros. 3 and those Hammer Bros. are still kicking your butt. Geekologie thought that you deserved to finally save the princess and has a nifty graphic to help you accomplish this. Get pumped up by Courage Wolf and get Mario that kiss he's been waiting oh so long for.
Even made out of Lego and narrated by a kid, this Star Wars film is better than the prequels combined. Now if we could only undo that last Indiana Jones movie…
We hope you enjoyed this week's Viral Views! Now if you'll pardon me, I really have to go.
Like this? Visit GeekTech every Friday afternoon for more Viral Views! For best results, follow GeekTech on Twitter or Facebook .