Apple's iPad is headed to Target on October 3, and although it's the same iPad you can currently get at Apple Stores and Best Buy, it presents an opportunity to save a little cash.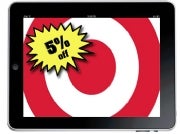 When the iPad goes on sale at Target in October, the company says, two weeks later (on October 14) you can get a 5 percent discount on all iPad models when paying with a Target credit card.
All six models — 16 GB, 32 GB and 64 GB, with or without 3G — will be available. So if you buy the basic Wi-Fi-only model, using the Target credit card subtracts $25 from the $500 retail price. Going all out with the 64 GB 3G model, which normally costs $829, saves $41. Target offers one credit card that can only be used at Target stores, and a Visa card that can be used anywhere. Neither have an annual fee.
For now, the iPad is available at Apple Stores, Best Buy and several authorized Apple resellers. Bloomberg reported in May that Wal-Mart could get Apple's tablet this year, and Boy Genius Report wrote in February that AT&T stores would carry the iPad. Neither rumor has come to fruition so far.
Apple hasn't said why the iPad is rolling out so slowly to major retailers, but the reason may have to do with supply shortages earlier this year. With more mouths for Apple to feed, each retailer would have an even smaller stock to work with. Perhaps the expansion is a sign that iPad supply shortages are no longer a concern. Apple's online store currently shows no shipping delays on any of its iPad models.