Just color it colorful. That's seems to be the motto for this year's wave of sharp-looking holiday gadgets as consumer electronics companies woo the public with new products. Your old black and beige computer gear will look pretty lame next to many of the devices we saw at a major holiday products event in New York last week. Bright colors seem to be the standard even for things that are often hidden away, like external hard disks. Put your shades on now, because the watchword for this holiday's color scheme is "bright."
(Click on any of the images below to enlarge)
Is it a wireless handset, a stereo speaker system, a corporate teleconferencing device or a glitzy conversation piece? Yes. With a name like "Moshi Moshi 04" you'd expect an offbeat design and the $200 unit from Native Union doesn't disappoint. The Bluetooth handset, sculpted by designer Michael Young, combines all of the above in a two-piece system which offers 6 hours of talk time, 2 hours of music playback and 120 hours of standby time per charge. If a call comes in while music is being piped through its stereo speakers, the music volume drops down and cuts off completely when the handset is picked up. The Moshi Moshi 04 is available from the company Website and Amazon.
If you're old enough to remember rotary-dial phones with real metal bells, you'll feel at home with the colorful $30 Pop Phone handsets from Native Union. The retro-design Pop Phone handsets, designed by French designer David Turpin, harken back to a day when phones were black and had handsets solid enough to break walnuts. The Pop Phones can be used with iPods, iPhones and any cell phone with a standard 3.5mm headset/microphone socket. An optional USB adapter is available for use with a PC. When plugged into an Apple iPad with Skype, the handset turns the iPad into a desk phone. According to a company representative, the Pop Phone handset is more comfortable between the ear and shoulder than today's skinny cell phones. The units, available from Nativeunion's Website and Amazon, come in pink, yellow, dark purple, dark blue and green.
If you like your tech gear stylish and have really, really deep pockets, Novero offers a line of ultra-luxury Bluetooth devices that would make Donald Trump faint from sticker shock. Novero's Bluetooth headsets are aimed at upper-class users who don't want a cheap-looking headset ruining their all-mink ensembles. For example this $110,000 pearl-laden Victoria Corounne D'or unit from the company's Victoria Collection shown at the press event offers real pearls and clusters of real diamonds. A wired earpiece runs from the necklace to your ear while most of the electronics sit behind a huge pearl. But it's more than just electronics shoved inside expensive jewelry. Getting a clear Bluetooth signal through a thick layer of gold or silver is no mean feat and Novero's engineers took great pains to design circuitry that could deliver sound worthy of the price tag, said a company representative. Each unit is custom made by jewelers and takes months to deliver-so start saving now for the 2020 holiday season.
Kodak focuses on ease-of-sharing images with the new capabilities built into its $200 EasyShare D590 14-megapixel digital camera. Once you configure the camera with e-mail addresses, social networking sites and photo-sharing sites, you can tag photos you've taken with its Share button. Once you get back to your Internet-connected computer, the photos can be sent to a single or multiple destinations automatically with no further input from you. You can also tag photos and send them to a Kodak Pulse digital frame. Billed as the world's thinnest digital camera with a 5X optical zoom lens, the Easyshare D590 comes with 2.7-inch rear touchscreen. The unit will be available this fall.
Who says a professional-class DSLR has to be black? Pentax breaks the mold with the 12.4-megapixel Pentax K-r, which comes in red and white in addition to basic black. With support for ISO speeds from 10 to 25,600 and shutter speeds as fast as 1/6000th of a second, a 3-inch rear display and an internal dust-removal system, the unit offers true professional-class capabilities. The body alone retails for $800 while a package with the camera and an 18-55mm wide-to-telephoto lens is $850. Two double-lens packages are also available for $900 (18-55mm and 50-200mm lenses) and $1,000 (18-55mm and 55-300mm lenses). The unit will hit stores in October.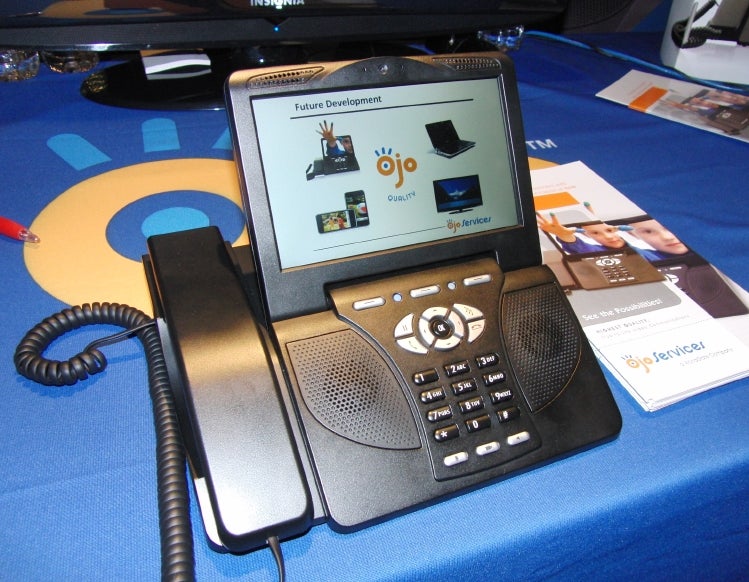 Worldgate Ojo Vision Video Phone
Video telephony is nothing new, but a service that provides videophone service for the same price as voice-only Internet phone services is an ice breaker. The Ojo Vision Digital Video Phone from Pennsylvania-based Worldgate has an adjustable 7-inch video screen as well as a built-in webcam in addition to its standard telephone handset and touchpad. Rear ports let you feed the video to an HDTV and audio to external speakers. Proprietary technology adjusts the quality of the video to suit the data connection, said CEO George Daddis. He said the phone uses industry-standard video protocols, thus making it compatible with many corporate videoconferencing systems. After a one-time $100 equipment fee for the phone and a one-time $40 activation fee, video phone service, which includes unlimited calls to the U.S., Canada and Puerto Rico, is $30 per month. The service is available now from the company's Website.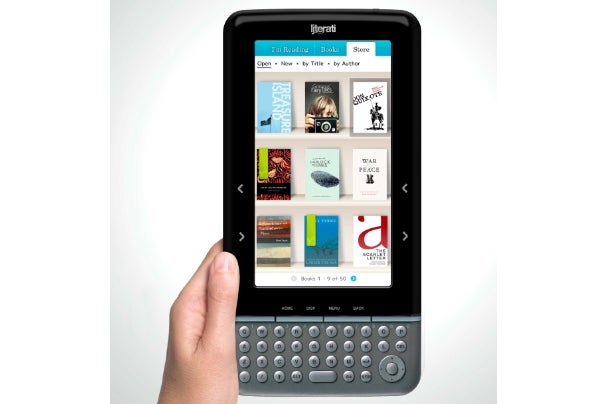 Literati E-reader from Sharper Image
There will be no shortage of ereaders and tablets this holiday season, but the Literati ereader from The Sharper Image tries to set itself apart by making it easy to get started. The unit, which will sell for $159 or less after rebates, offers an easy-to-navigate interface with light-touch navigation buttons on the sides and a full QWERTY keypad at the bottom. Unlike most ereaders, the Literati's case comes free with the 14-ounce unit. The Literati, which comes in white or black, depending on where you buy it, has a 7-inch color screen, Wi-Fi connectivity, 512MB of internal memory which is expandable to 8GB with a removable memory card, comes with 25 preloaded classics and can download books from the Kobo e-book service. The unit will be available in October at a number of stores, including Bed Bath & Beyond, Best Buy, JC Penney, Kohl's, Macy's and others.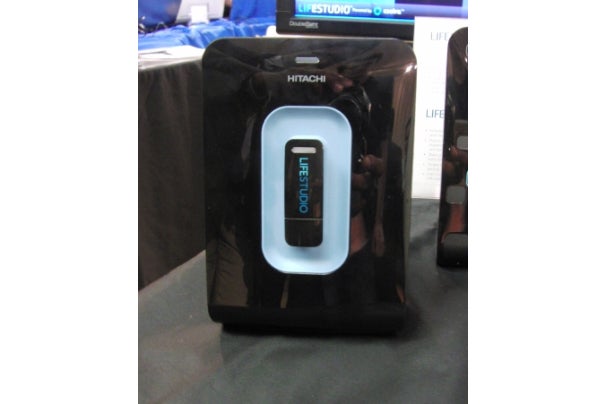 Hitachi GST LifeStudio Desk Plus External Hard Disk
If you're a frequent flash drive user you know that it's easy to lose them before you have a chance to copy your data to a PC. The LifeStudio Desk Plus external hard disk from Hitachi Global Storage makes it easy to get your data off the hard disk by utilizing a unique flash drive that can automatically synchronize its data with the external hard disk. Just attach the magnetic 4GB flash disk to the hard drive and the synchronization begins. In addition to local backups, users can also archive up to 3GB of data to the cloud at no charge; 250GB of storage is available for $49 a year. The system can organize your photo collection into a 3D photo wall that makes it easy to scroll to the content you're looking for, whether it's on your PC or on a social network. When networked, you can access the drive from any Internet-connected device with a Web browser. The one-terabyte LifeStudio Desk Plus is available now and lists for $150 while the 2TB version is $220.