At a Glance
Expert's Rating
Pros
Above-average general performance
Excellent case design
Cons
Underwhelming storage capacity
Internal wiring inhibits upgrading
Lacks diversity in connection types
Our Verdict
Acer's Aspire M3400 budget desktop puts up a good fight–but in terms of features, competing (and similarly priced) systems are just a bit better.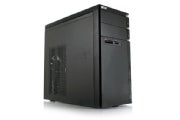 It's tough to find much direct competition at the Acer Aspire M3400's $600 price point (as of September 24, 2010). More-expensive systems tend to offer stronger features and speed, as you might expect. Systems in the budget desktops category, meanwhile, tend to skimp on both. The M3400 makes a decent showing for its cost–but a few missteps ultimately make this a merely good middle-of-the-road budget PC.
Powering this midsize-tower desktop is a quad-core AMD Phenom II X4 820 processor that chugs along at a brisk 2.8GHz clock speed; 6GB of DDR3 memory accompany the CPU. The processor's speed and the memory's size are both above-average for the category–but "above-average," of course, isn't the same as "tip-top." The system's 640GB hard drive is a nice touch, too, but again it's underwhelming compared with the 1TB of storage space we see on similarly priced systems within the category.
One such rival–and a prominent one, at that–is the Gateway SX2840-01 midsize-tower desktop. The SX2840-01, priced $40 less, spit out a score of 118 on our WorldBench 6 suite of tests, a tad higher than the M3400's mark of 110. Although that isn't a deal-breaker for the Acer desktop by any means, it is one more indication of the M3400's relative meagerness.
Although the matte-surface M3400 isn't quite as easy on the eyes as the glossy-black SX2840-01, Acer's desktop nevertheless sports a similar form. The M3400's single DVD burner is nicely concealed beneath a stealth panel on the case's front. Four USB ports and a multiformat card reader rest on top, right in front of an awesome flip-up panel that reveals a sizable space to rest gadgets or tools. Whether glossy or matte paneling is better is really matter of personal preference, as the M3400 presents itself quite well.
The system's insides are a little less appealing. The first thing you'll notice–and try to move–is a mass of cabling that's stiffened up inside the chassis. Once you work your way inside, you're treated to a pair of screw-filled 5.25-inch bays, of which one is free; the same applies to the pair of hard-drive bays. Over on the motherboard, you'll find one PCI slot and two PCI x1 slots awaiting potential upgrades. No matter how you slice the M3400's pie, it just doesn't have much filling.
The skimpiness extends to the rear of the M3400, where you'll find just six USB ports, one gigabit ethernet port, and outputs for stereo sound. Who really needs any kind of next-generation storage connectivity, anyway? We see a greater diversity of ports on compact PCs. The system's discrete graphics card does come with a strong trifecta of options: DVI, HDMI, and VGA. But the system's lack of FireWire or eSATA connectivity is a sore point.
One area in which Acer doesn't shortchange the M3400 is, oddly enough, the accompanying keyboard and mouse. The latter is generic and boring, and that's all I'll say about that. The keyboard, however, contains a number of buttons for one-touch application launching and media controls, as well as a big, honkin' volume wheel built directly into the upper-right corner of the device. Both peripherals are wired, but at least they're more functional than most input devices we see in the budget PC category.
Good, but not great–that's about how we sum up the Acer Aspire M3400 desktop. Its performance is more than adequate for its price, and such speed does much to help this system compete with other budget PCs of similar cost. It even beats out pricier, unimpressive models we've seen. As for this desktop's specifications, however, it's missing bits and pieces in too many important areas to stand out as a stellar example of its class.