At a Glance
Expert's Rating
Pros
Great price-to-performance ratio
Large number of USB ports for external connections
Cons
Internal construction limits upgrades
External connection options lack diversity
Our Verdict
Acer's inexpensive Aspire X3400 makes a strong showing for a reasonable price.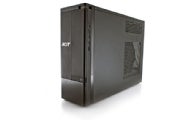 At first glance, you might notice a similarity between the $450 Acer Aspire X3400 and the $600 Gateway SX2311-03 budget desktop (prices as of September 24, 2010). But even though both budget desktops have comparably modest dimensions and a certain likeness in general appearance (minus some glossy paneling here and there), they are by no means twins in construction and features. Acer's budget PC is inexpensive enough to make it a compelling–but not perfect–package.
Part of the reason for the Acer's system low cost is its triple-core AMD Athlon II X3 435 processor, clocked at 2.9GHz. The SX2311-03 is equipped with a quad-core Phenom II X4 820. Both systems share the same amount of DDR3 memory–4GB in total–though Acer also cuts the storage capacity of its desktop to 500GB versus the SX2311-03's 1TB.
Even given these variations, however, the two systems are fairly even in general performance. Acer's X3400 hits a score of 104 on our WorldBench 6 test suite–4 points behind Gateway's SX2311-03. But both systems pale next to Gateway's midsize tower PC, the SX2840-01 ($560), which earned a mark of 118 on WorldBench 6. Predictably (given their budget configurations) none of the three systems delivered playable frame rates on our gaming benchmarks.
Overall, the X3400 look is bit less appealing than the Gateway SX2311-03's. The glossy paneling on Gateway's system presents a smoother, cleaner look than the paneling on the Acer desktop. Nevertheless, we appreciated Acer's design decision to conceal the system's DVD burner and front-side ports beneath those panels.
The X3400's interior is less impressive. As inside the Gateway SX2311-03, you can't access the hard drive area without first removing the optical drive. More annoyingly, you can't remove or insert memory without doing the same thing. There are no free bays for additional 3.5- or 5.25-inch devices, though two open slots remain on the motherboard for a PCI Express x16 and PCI Express x1 add-on card. No part of the system is screwless.
Acer's X3400 matches Gateway's SX2311-03 in overall connectivity, with five USB ports and a multiformat card reader on the front, and four more USB ports, a gigabit ethernet port, an eSATA port, a VGA port, an HDMI port, and integrated 5.1 surround sound on the rear. HDMI essentially replaces what would otherwise be a standard DVI port, leaving but one eSATA port as the only real "next-generation" offering either system shares. Gateway's SX2311-03 does distinguish itself by offering integrated Wireless-N connectivity, however.
We enjoyed the keyboard that comes bundled with the X3400; it includes a few additional buttons–and a volume wheel built directly into the keyboard's side–for one-touch application launching and media control. The mouse is a generic two-button model, serviceable but uninteresting.
The Acer Aspire X3400 and the Gateway SX2311-03 are equals in features and performance, minus a little storage capacity here and some integrated wireless there, but the the X3400 significantly lower price puts it ahead.
The X3400 also beats out on the only even cheaper category of desktop PCs: compact desktops. If price is of less concern, however, Gateway's "other" desktop, the SX2840-01, pulls ahead of the X3400 in features ever so slightly.