Earlier this week Google unveiled its Google Transparency Report, the company's latest effort to stick to its "don't be evil" mission statement. The new site helps users differentiate between regular Google downtime and service interruptions caused by government interference, but that's just some of what the site can do.
In addition to differentiating between normal and "government-induced" service outages, the report's Government Requests page breaks down the numbers on government takedown requests for each country in the form of a handy Google Map. Clicking on an individual country further breaks down the data, providing takedown stats for individual Google services as well as compliance stats and how many takedowns were court-ordered.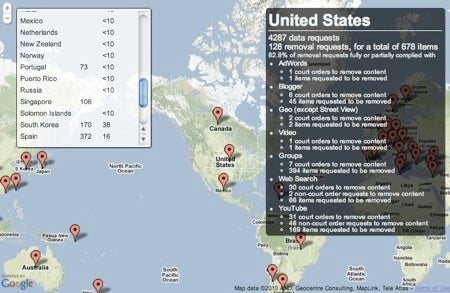 The site also has a traffic section that provides data on the usage of each Google service in various countries over time. Google hopes that this tool will help show "disruptions in the free flow of data," but in its current form the traffic charts don't differentiate between a government-induced takedown and a drop in traffic caused by a random dip in interest, which limits this tool's usefulness. Google has said, however, that it plan to continue working on how to best present the data in the Transparency Report.
Perhaps the easiest way to understand the new site is to view it as a global extension of Google's earlier Mainland China Availability Chart, extending Google's method of displaying data on the Chinese government's interference to the rest of the world. Google seems to have high hopes that the site will similarly help expand the fight against net censorship.
The Transparency Report homepage includes a statement on Google's commitment to fighting web censorship that says at one point, "We hope this step toward greater transparency will help in ongoing discussions about the appropriate scope and authority of government requests."
Like this? You may also enjoy…