Monday is Google's twelfth birthday and the search giant is celebrating once again with a new Google Doodle on its homepage. This year's doodle is a painting by American artist Wayne Thiebaud and features a simple birthday cake with Google's logo and one candle. Thiebaud, born in 1920, is well known for painting images of cakes, ice cream, candy, and toys.
It's not clear how the company decides when to celebrate its birthday as Google.com was registered on September 15, 1997 and Google wasn't incorporated until September 4, 1998. The company has also celebrated its birthday on September 7 instead of September 27 on at least two occasions. Regardless, it's been at least twelve years since Google became an indispensable way to help us navigate the Web. So in celebration of Google's birthday, here's a look back at Google's annual birthday doodles.
2002: Happy 4th Birthday

Google may be twelve, but its annual birthday doodle didn't appear until September 27, 2002. The company turned the "L" into a 4, and threw itself a party with virtual confetti and a simple white birthday cake. Google launched Google News in September 2002, and that month was one of the earliest times the Chinese government blocked access to Google. In October 2002, Google.com was hijacked within China and users were redirected Tianwang Search, a search engine operated by Peking University.
2003: Happy 5th Birthday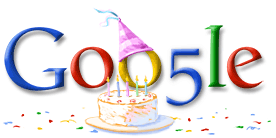 Google celebrated its fifth birthday on September 7, 2003, and it was cake and candles for Google again with the second "G" turned into a 5. That year, Google acquired Pyra Labs, the company behind Blogger, and launched the AdSense advertising service. This was also the year that Microsoft started building its own search product, and Amazon announced plans to develop a search engine dedicated to e-commerce, according to Wired.
2004: Happy 6th Birthday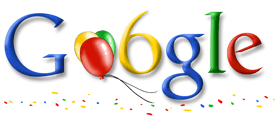 Google went on a diet in 2004, choosing to celebrate its birthday on September 7 with just balloons, confetti and the second "O" turned into a 6. The month before its birthday, the search giant had its first initial public offering. The company said it sold 19,605,052 shares of class A common stock with an opening price of $85 per share. At the time of this writing, Google's stock price was $534.23.
2005: Happy 7th Birthday

Perhaps making up for going without cake the year previous, Google went all out for its seventh birthday on September 27. The search giant's doodle included 7 pieces of cake and the "L" became a 7. This was a big year for Google, with notable launches including Google Maps, Google Earth, Google Scholar, personalized home pages (later to be called iGoogle), Google Talk, and Google Reader. Google also experienced its first headaches with Google Book Search when a group of 8000 writers opposed the search giant's plans to scan and index the libraries at Harvard, Stanford, Michigan, and Oxford universities, according to The Boston Globe.
2006: Happy 8th Birthday

It was a one-cupcake birthday for Google on September 27, 2006 with the second "G" morphing into an 8. This was another year of debuts for Google with services such as Picasa desktop client and Web albums, Google Talk, Google Calendar, and Google Checkout. In October, Google announced its acquisition of YouTube and launched Google Docs.
2007: Happy 9th Birthday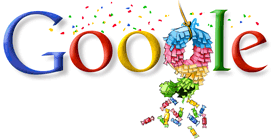 Google went with a Mexican theme for its September 27, 2007 birthday celebration using a piñata in place of the second 'g.' This was the year that competitors and interest groups protested Google's acquisition of Web-based ad provider, DoubleClick.
2008

Celebrating a decade, Google added an exclamation point to its logo along with the usual birthday trappings on September 27, 2008. The most notable event for Google in 2008 was the launch of its first Android-based phone, the T-Mobile G1. Recently, Google CEO Eric Schmidt said there are about 200,000 Android activations every day. A close second to Android's debut was the non-beta launch of Chrome, Google's Web browser.
2009

Showing a bit more maturity than previous years, Google simply added another "L" to its logo to stand in for the number 11. There were no birthday cakes, candles or confetti just the stark realization that Google was yet another year older. In its eleventh year, Google announced the forthcoming Google Chrome OS for netbooks. The great Google outage in May left 14 percent of Google users around the world without access to the search giant's services for several hours.
2010
For Google's twelfth birthday, the search giant is trying to become a part of your living room with Google TV. Google launched the now infamous Pac Man doodle that supposedly sapped American productivity for a day, and Samsung announced the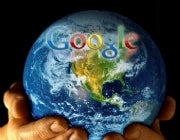 Android-based Galaxy Tab. Google also came under fire for its Wi-Fi snooping scandal and its oft-criticized net neutrality pact with Verizon. The company also received praise and scorn for its showdown with the Chinese government over censorship.
It's been an interesting twelve years for Google and who knows what the next year will have in store for the company. Will Google finally turn to evil and away from its unofficial motto? Will Google require more government oversight as it becomes an even bigger gatekeeper for the world's data? Or will it just continue to give us more and more free stuff to use online? We'll have to wait until 2011 to find out.
Connect with Ian Paul ( @ianpaul ) and Today@PCWorld on Twitter for the latest tech news and analysis.