Let's face it: The Android browser isn't perfect. While performance is improving with each update (Android 2.2, in particular, boosted the speed of the browser with a new Javascript engine), it's a fairly bare-bones browser compared with some of the others available in the Android Market.
Then there's also the great Flash divide: Devices upgraded to Android 2.2 (Froyo) can support Flash 10.1 content, but unfortunately not all Android devices have received this upgrade (the Samsung Galaxy S phones, for example).
Luckily, quite a few third-party browsers are available. These browsers are feature-loaded and a few even support some versions of Flash. Four in particular stand out from the crowd: Skyfire 2.0, Dolphin HD, Opera Mini, and Mozilla Fennec (also known as Firefox Mobile).
We took an in-depth look at these four browsers and found strengths and weaknesses in each. We also measured their page-load speeds, and compared them with those of the stock browsers in Android 2.1 and Android 2.2.
Are any of these third-party browsers in the Android Market better, and faster, than the stock Android browsers? How do these alternative browsers stack up to the stock ones? Are they worth downloading? Read on to find out.
Skyfire 2.0
Skyfire 2.0 is notable in that it emphasizes support for Web videos, even on devices that don't have Flash (the Adobe technology that powers most streaming video). To accomplish this, Skyfire transcodes the videos on its own Web servers and serves them to the phone in an Android-compatible format. The feature works well for many, but not all, Web videos. It's a dramatic improvement over the stock browser's video playback–especially for the many devices in the wild that don't yet have Android 2.2, which has Flash support baked in.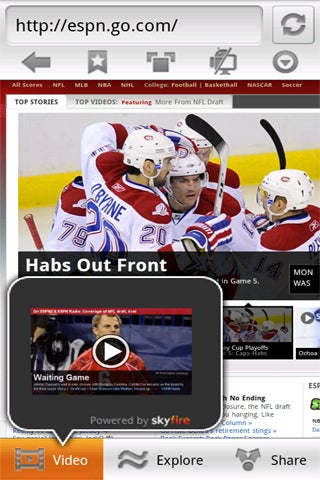 Skyfire also lets your phone pose as a full-sized PC, so that you can access full desktop-optimized Websites if you choose. One of the frustrating things about the stock Android browser is that many sites will serve it a dumbed-down, mobile-optimized page that lacks the interactive features of the regular page available in a desktop browser.
Although the stock Android browser can open multiple windows, its interface doesn't allow you to navigate between them easily. Skyfire puts a button on the toolbar to simplify window navigation. This browser also has a file download manager that allows you to view your download progress, see a list of your recently downloaded files, and click to open any one of them.
Despite all its cool functionality, we were left with some questions about Skyfire's stability. Skyfire 2.0 was the only browser that crashed during testing.
Dolphin HD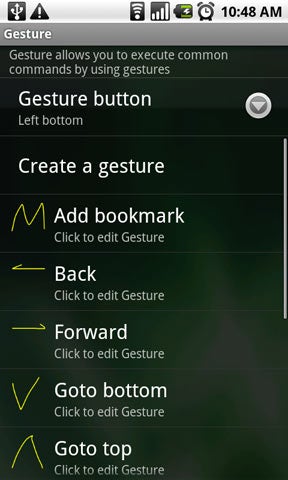 Dolphin HD appears to draw a lot of inspiration from Mozilla's popular desktop-based Firefox Web browser. Like Firefox, Dolphin HD has a tabbed interface and can install add-ons that extend functionality. Forty-two such add-ons are available today, with more coming. Some of the best ones are QR Share (which generates a shareable 2D barcode of your current Web page URL), Adblock Plus, Tab History, Del.icio.us Bookmarks, and Wikipedia Search.
You can install as many add-ons as you like; if you're a heavy add-on user, you can disable the ones you don't often use, to free up memory. Several themes, which change the appearance (mainly the color) of the browser, are also available.
In an innovative twist, Dolphin HD lets you tell it what to do by drawing any of a set of user-defined symbols on the touchscreen of your device. To access Bookmarks and History, you simply swipe-and-drag the screen all the way to the right, which opens a Firefox-like sidebar. You swipe-and-drag again to close it when you're done.
Similarly, you can swipe-and-drag to the left to open a toolbar that gives access to installed add-ons and themes. And like Firefox, Dolphin HD has a built-in link to an add-ons gallery.
Dolphin HD supports Flash–the technology that enables most Web videos–if your Android phone has Flash support (that is, if you've upgraded to Android 2.2). In my tests with a Sprint HTC EVO 4G phone running Android 2.2, Dolphin Browser HD was able to play videos from Blip.tv, The Onion (with some awkward display formatting), Vimeo (though some HD videos choked occasionally), and YouTube. Sadly, however, it was unable to play PCWorld videos.
Opera Mini
Opera Mini is a tabbed browser that makes the best of low-bandwidth or poor data-coverage situations. Using server-side compression, Opera strips out all the Web page junk your mobile device doesn't need, while still retaining as much of the page's appearance as is practical. The result is a good-looking page that loads quickly, even in low-signal areas. This happens without making your phone do the heavy work, so your phone doesn't slow down at all.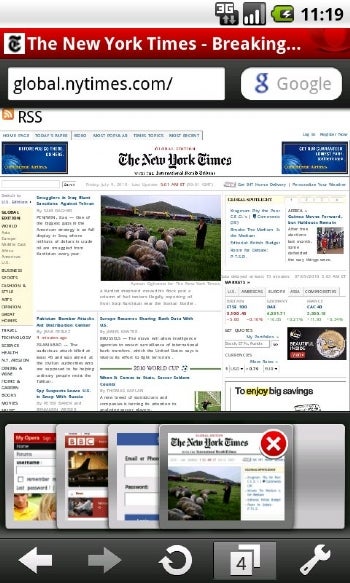 While Web pages load lightning-fast (see the results of our speed tests, below), there is a catch: Streaming video is not supported. Then again, streaming video doesn't work very well in low-bandwidth situations anyway. Opera Mini also has a built-in RSS feed reader and a Web-based bookmark sync service called Opera Link.
The user interface is simple and finger-friendly. A toolbar sits at the bottom of the screen with buttons, labeled with icons, for Back, Forward, Windows and Tools. The Tools button slides up an eight-button menu for Bookmarks, History, Start Page (a configurable speed-dial of frequently-used bookmarks), Saved Pages, Downloads, Settings, Find in Page, and Help.
Mozilla Fennec
Although Mozilla's Fennec mobile browser is still in an early stage of development (alpha), its potential for exchanging data easily with the popular Firefox desktop browser already makes it a real contender among third-party Android browsers. (Your phone must have Android 2.0 or later.)

Today, Fennec weighs a whopping 11.5 megabytes. The app is so bloated that it takes a long time to start up, and often lags while running. But the app should slim down to fighting weight by the time it hits the Android Market.
The draw is the promise of a mobile browser that will offer a reasonable amount of the look-and-feel and functionality of Mozilla's popular Firefox browser. Fennec has hundreds of available add-ons ported over from Firefox.

But Fennec's syncing capabilties are what make it special. A terrific feature called Firefox Sync lets you share the same bookmarks, browsing history, tabs, and passwords with the Firefox browser you use on your desktop, after you've installed the Firefox Sync add-on to Firefox.
Fennec is a mobile browser with a very good pedigree, but right now it's still a work in progress–in alpha, as noted–and isn't even available in the Android Market. However, you can download Fennec Alpha and try it out on your mobile device if you wish. That is, unless your Android phone comes from AT&T, which has placed an annoying ban on third-party apps.
Speed Tests
Of course, look-and-feel and features aren't everything–good old speed counts as well. To find out which browsers walk the walk on speed, we compared page-load speeds of Opera Mini, Skyfire, Dolphin HD, and Fennec, and contrasted those speeds with those of the stock Android 2.1 and 2.2 browsers. We tested all browsers on a Droid X phone, except for Fennec; the browser worked only on the HTC EVO 4G.
We chose our test Web pages for their diversity of content. ThrasherMagazine.com is extremely media-heavy, with a mix of video formats. Wikipedia is mostly text-based. PCWorld.com and NYTimes.com contain a mix of text, images, and ads. Amazon.com contains text, small images, and e-commerce elements. In all cases we tested the desktop versions of the sites, eschewing the stripped-down mobile versions.
For each browser we loaded up all five pages, measured the load times of each, and then averaged the five load times. We did this first for live pages (pulling them down from the Web, not from a cache in the browser), then for the cached (or saved) versions of the pages. Our results are contained in the chart below.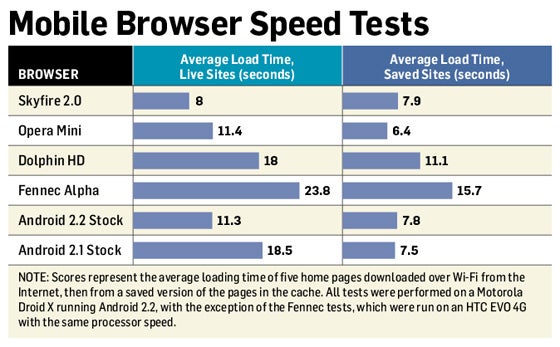 Speed Results: Live Pages
When loading live pages from the Internet, Skyfire 2.0 had the fastest average speed of all the third-party browsers in our test, at 8 seconds. Opera Mini showed that its method of streamlining Web pages (discussed above) is effective; it loaded our five Web pages in 11.4 seconds on average. Dolphin HD, despite its impressive feature offering, loaded live pages significantly more slowly than its fully released third-party peers, with an average speed of 18 seconds. Fennec, the alpha browser, was significantly slower than the others, with an average speed of 23.8 seconds.
Also, Android 2.2's browser enhancements appear to have improved live page loads considerably. The 2.2 browser loaded our live pages in an average 11.3 seconds–a full 7.2 seconds faster than its predecessor in Android 2.1.
Speed Results: Cached Pages
In our tests loading saved or cached pages, the order from fastest to slowest changed somewhat. The Opera browser proved fastest here, needing an average of 6.1 seconds to load the test pages. Skyfire and Dolphin HD came in second and third, with times of 7.9 and 11.1 seconds, respectively. Again, Fennec came in last place, with an average speed of 15.7 seconds.
The Android 2.2 stock browser didn't load cached pages quite as fast its Android 2.1 predecessor. The 2.2 browser loaded cached pages in 7.8 seconds on average, while the 2.1 browser loaded them in 7.5 seconds on average.
Conclusion
Granted, we're talking here about differences of seconds. But when you're moving at Web speed, waiting for pages to load, seconds can seem like hours. It's up to you to decide the importance of browser speed: Will you notice whether a browser is taking 23.8 seconds to load a live page (Fennec's average) or 11.3 seconds (the Android 2.2 browser average)?
Beyond that, picking a browser really comes down to the extra features. The relative importance of such features depends largely on when, where, and how you do your mobile browsing. If you find yourself browsing in poor coverage environments, Opera Mini might work the best for you.
If cell coverage isn't an issue for you, and if you're into plug-ins and like the idea of controlling the browser with gesture controls, Dolphin HD may be the answer for you, despite its somewhat slower page load speeds.
If watching Flash video is high on your list, Skyfire appears to be an obvious answer in a pre-Android 2.2 world. And Skyfire's page load speeds are impressive.
All three of these third-party browsers have carved out their niche versus the stock Android browser, making them worth the download for some users. That's the beauty of Android: You have options, and you're not stuck with just one browser. But out of the three, we pick Skyfire as the best third-party browser overall, due to its fast page-load speeds, extensive features, and video support. In its current state, we can't yet recommend Mozilla's Fennec, but it has potential, and we're interested in testing it again after it has had more updates.
And, of course, many users will be absolutely fine with the Android 2.1 stock browser–an elegant browser to be sure–and even better off with the Flash-supporting Android 2.2 browser as it becomes available on more devices.