At a Glance
Expert's Rating
Pros
Simple, easy-to-find controls
Sophisticated voice-triggered services
Cons
Vocalyst recordings not as clear as phone calls
Not as loud as comparable headsets at top volume
Our Verdict
Useful headset gives you simple access to information when you're on the go.
If you're the type that can't stand to be away from your e-mail and Twitter feed for long, you might appreciate the freedom that the Plantronics Savor M1100 Bluetooth headset ($100 as of September 27, 2010) affords you. Not only can you listen to e-mail and incoming tweets without a PC, but you can also send replies as audio attachments or, with an extra-cost option, have the unit convert your speech to text first.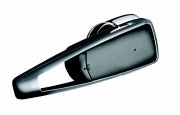 You can use the Savor to listen to news, finance, sports, or weather updates from sources such as CNN and Yahoo; and with an Android or BlackBerry smartphone app, you can have it read incoming text messages and send an automatic reply such as "I'm on the road, so I'll text you back later."
At the heart of the Savor M1100's extra abilities is the new Plantronics Vocalyst online service, which enables a variety of voice features. Before you can use the service, you need to register your Savor M1100, through its unique activation code, with the Vocalyst Website. Included with the headset is a free year of Vocalyst Basic, which is otherwise $3 a month or $25 a year. Vocalyst Pro, which adds a number of productivity features and the ability to convert speech to text, is $6 per month or $60 a year; you can download the free Android and BlackBerry apps from those platforms' respective app stores.
Once you power the headset on, you can answer or reject calls without touching it: Just say "answer" or "ignore" as a call comes in. Other commands require the press of a command button. If you don't know what command to give, ask "What can I say?"
All controls are mechanical and fairly easy to find–for example, instead of requiring you to press a button for a few seconds, the Savor M1100 has a simple color-coded on/off switch. The three-step volume-control button worked fine, but the unit, while loud enough, did not seem to have the loudness of comparable Bluetooth units.
At just under a third of an ounce, the headset is light enough to be forgotten while it's on your ear. A small selection of ear gels and a clear plastic earloop provide enough fitting options for most ears.
Listeners at the other end reported few issues as far as voice clarity–including the clarity of chatty people nearby. The three-microphone headset, which uses Plantronics' AudioIQ noise-suppression technology, did a good job of canceling nonvoice sounds such as nearby road traffic, however.
Once you dial in to the Vocalyst service, you simply say what you want to do (as in "send an e-mail"), or you say a command like "sports" or "weather." In practice, I found that the service read back my text messages and news, stocks, sports, and weather updates smoothly and coherently. The speech engine recognized a Yahoo.com e-mail address and correctly pronounced it as "Yahoo-daht-cahm" as opposed to "Yahoo-period-cahm." It recognized a 9-2 baseball score in a text message, pronouncing it as "nine-to-two" rather than "nine-dash-two" or "nine-minus-two," but when I listened to a sports update, it spoke the scores with "dash" in between.
The Vocalyst Basic level includes the ability to listen to news, finance, sports, and weather updates and to create and listen to Twitter tweets and e-mail messages. The Basic service records your missives as audio files, saves them, and sends links for the audio files on the Vocalyst Website to the recipient. However, in my tests the recordings seemed to have a tinny, cloudy sound that failed to match the quality of phone calls I made with the headset. This result could have more to do with the audio-recording configuration at the Vocalyst Website rather than a hardware problem.
The Vocalyst Pro service can convert your speech to text and send a text reply. This ability allows the Pro version to work with online services such as Xpenser.com, which helps you organize expenses while on the go; Ping.fm, which allows you to post updates on multiple social networking sites at once; and the WordPress and Blogger blogging sites. Also accessible with the Savor M1100 is the Bing 411 information service.
You can manually enter e-mail contacts or have them imported from other sources such as your Gmail contact list. Note that while sending e-mail and Twitter updates is easy, you'll need to be careful because you get no intermediate prompts. Once your message is recorded, it's sent right away, so e-mail and tweet with care.
The unit has well-situated buttons. It gives plenty of audio feedback, not only telling you that it's powered on and linked to a phone but also announcing how much talk time is left in its battery, which can be up to 4 hours on a full charge. The Savor M1100 offers up to seven days of standby time, according to Plantronics.
The Savor M1100 supports A2DP out of the box, and it worked well as a mono device when I tested it with the music playback from a second-generation Apple iPod Touch.
With its stylish design and support for advanced vocal commands, the Savor M1100 is a capable headset intended for people who savor sophisticated communications. If you become attached to the voice services, though, you'll need to pony up extra bucks after the first year.