Whether Research in Motion does, or does not, pull the curtains back on its BlackPad at this week's BlackBerry developers conference the tablet is likely to steal much of the spotlight. According to the latest reports from the blogosphere RIM may or not officially announce the BlackPad, as it is being called.
The BlackPad, a reportedly 7-inch tablet with two cameras and no 3G connectivity, has the potential to be a major addition to the enterprise market RIM has until now dominated with the BlackBerry. And despite the anticipated snub during RIM co-CEO Mike Lazaridis' keynote, and the conference's focus on the update to BlackBerry's OS, the BlackPad is what everybody wants to hear more about.
Apple's iPad is currently the tablet industry leader, and probably won't be knocked down anytime soon. Other companies, including Samsung, HTC, Dell, and Sharp have announced or released their own Android tablets, but so far none seem to be an iPad-killer. Time will tell.
BlackPad: Ready for Business
The key to the iPad's success is its focus on consumers rather than businesses, and though the iPad has the potential to be utilized by companies, it is mostly adopted as an entertainment device. Since RIM's BlackBerry already has an iron-clad reputation as the go-to phone for corporate communication, the BlackPad could create and dominate its own niche by becoming the first business-centric tablet.
However, RIM's recent updates to its BlackBerry line smartphones has been disappointing, signaling that RIM may be aging poorly. The Storm was a mess and the Torch delivered nothing resembling innovation as far as I'm concerned. The BlackPad is also supposed to have a brand-new OS, but the BlackBerry 6 OS overhaul hasn't blown any minds. If these lackluster releases are an indicator, and RIM is pumping out an unfinished tablet as a grasp at relevancy, the BlackPad doesn't hold a lot of promise.
Android Army Threatens BlackBerry Masses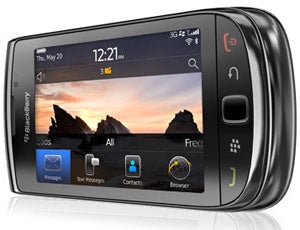 The Android OS also poses a serious threat to RIM. Though RIM currently has 39 percent of the smartphone OS market, Android is expected to overtake both RIM and Apple soon, and, according to market research firm Gartner, Android will be neck-and-neck with Nokia's top-running Symbian OS by 2014.
One thing's for certain: RIM will have to ramp up its production of apps if the BlackPad is to succeed. Even though the BlackPad (if it exists) is likely to be geared towards the enterprise, tablets thrive on apps. And with thousands of iPad-specific apps — not to mention hundreds of thousands of iPhone apps that work on the iPad — Apple's control over the world of tablets doesn't look like it will wane, and this could mean the BlackPad's rumored release could be a black eye for RIM.