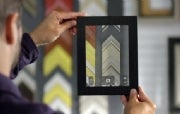 Research in Motion's tablet is not the BlackPad, but the BlackBerry PlayBook, a 7-inch rival to Apple's iPad and Samsung's Galaxy Tab. The tablet will ship "early 2011" according to RIM and sports some impressive specs including support for dual-processors, Flash support, and video resolutions up to 1080i.
RIM introduced the PlayBook at DevCon 2010, its conference for developers. A press release and promo video on YouTube provide more information.
Here's what we know so far about RIM's tablet:
-The hardware measures 5.1-by-7.6-by-0.4 inches, and weighs less than a pound.
-The touch screen measures 7-inches. -It has a 1 GHz dual-core processor with symmetrical multiprocessing capabilities, and 1 GB of RAM
-HD cameras are on the front (3 megapixels) and rear (5 megapixels) of the device, and 1080p video recording is supported.
-There is microUSB support and microHDMI output.
-Wi-Fi is 802.11 a/b/g/n, and there's Bluetooth 2.1
-No mention of 3G or 4G connectivity. All Things D reports that RIM could announce mobile broadband tablets in the future.
-It connects directly to BlackBerry Enterprise server
-The OS is confirmed to be built by QNX, which RIM acquired last spring.
-The software supports HTML5 and Flash 10.1 with hardware-accelerated video.
-There will be multitasking.
-The promo video refers to the Blackberry Playbook as an "enterprise ready, professional tablet," but also describes it as "app rocking."
–According to IntoMobile, RIM says the PlayBook will be "an amazing gaming platform."
-Thank goodness it's not called the "BlackPad."
A PlayBook page will go up on BlackBerry's Website, but for now it just redirects to a page on the Blackberry Torch.
The Blackberry Playbook will arrive in the United States in early 2011. No pricing was announced.
We'll have more information as it becomes available. Below is a RIM promotional video.