So far, Nokia's new Symbian phone, the N8, is getting lukewarm reviews, and few are willing to bet on anything except its slow demise. There are reasons, mainly its operating system, that make the phone a very hard sell to Americans consuming both Android and Apple iOS systems and applications.
Here are five reasons why Nokia's latest phone is a goner:
1. Price
The N8 is going to run just under $550, a high price for a smartphone, especially when you can buy an iPhone 4 or Droid X for half the price with a two-year contract. It's also a steep price when you consider it will come with the new Symbian 3 OS, which hasn't been widely used.
2. Symbian 3 OS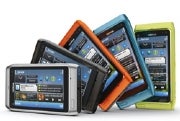 Sure, Symbian is on about half of all mobile phones in the world, but the operating system is expected to drop to less than a third of mobile devices worldwide, while the open-source Android system is expected to flourish, according to Gartner Research.
While VentureBeat circulates rumors that Nokia may adopt the Windows Phone 7 OS to prevent a complete abandonment by users, there's been no official word from Nokia. Still, many point to the hiring of Microsoft alum Stephen Elop as chief executive as evidence for this view. Also don't expect any Symbian upgrades soon, since Nokia's still working on them.
3. Applications
Symbian cannot compete with Android and Apple's hundreds of thousands of apps available. No 12MP camera (available on the N8) or video playback can make up for that.
4. Speed
With features called "slow" and "underwhelming", many are blaming the phone's 680 MHz processor–considered a dinosaur in comparison to the many 1 GHz smartphones being released onto the market.
5. No Demand
A recent national poll of smartphone buyers from JD Powers and Associates rated Nokia dead last in the smartphone market, with satisfaction of a Nokia handset below the industry standard. Android phone makers Motorola and HTC, as well as Apple, reported a gain in satisfaction.
Sure, the Nokia N8 has a 12MP camera, 720p playback, and a vivid viewscreen, but it had to have that just to get users to look past what it doesn't have: a popular, updateable operating system, plenty of applications, and a reasonably priced product. Save your time and money for a handset that's easily upgraded, cheaper and faster.
Reach or follow Barbara E. Hernandez on Twitter: @bhern.