At a Glance
Expert's Rating
Pros
Full-featured package, polished interface
Web and mobile access, handy quick-start process
Cons
Very pricey, and lots of new features cost extra
Can still be a tad overwhelming for beginners
Our Verdict
The 2011 edition of Intuit's small-business accounting software adds much-needed online access, smartphone tools, and other new features, but you'll pay handsomely for software and add-on services.
With QuickBooks 2011, Intuit performs a balancing act of reaching out to new users while trying to tempt veterans to upgrade to its latest market-leading small-business accounting software. And once again, the upgrade's usefulness depends on how much your business can benefit from the new features.
The new version is not a huge release overall, but mobile access to accounts, a simplified getting-started process, and features such as batch invoicing make the cost of upgrading worthwhile for some.
For both new and longtime users, the most compelling new features include access to QuickBooks via browsers and smartphones (iPhone and BlackBerry at launch). Although Intuit offers several completely Web-based versions of QuickBooks, the QuickBooks Connect service caters to those who prefer a desktop application for most of their accounting tasks but would like on occasion to access and manage at least some of their data without running the full-blown program.
The service isn't free, however: After a 30-day trial, Intuit will charge $10 a month per user. Given that the software itself runs $230 or more (as of October 4, 2010), you may find the total package too pricey.
I tried QuickBooks 2011 Premier Professional Services Edition, one of several industry-specific Premier versions that cost $400; you can save some money with the $230 QuickBooks Pro if you're willing to be a bit more proactive in setting up your business accounts (Premier does a lot of groundwork based on business type).
Arranging online access requires creating an account and syncing your data to the cloud. After that, the data syncs automatically every hour (or more frequently if you adjust settings), so long as QuickBooks 2011 is running on an Internet-connected PC. You can access it from your browser by logging in to the QuickBooks Connect Website (you get a URL after signing up), or you can do so from your smartphone.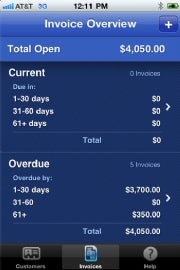 You can't do everything on a mobile phone that you can in a desktop browser–for example, I was unable to edit customer data on my iPhone, but I could add new customers and create and view invoices. The desktop browser also affords access to additional report info. For businesses with employees who frequently work offsite, the mobile functionality could prove very useful.
QuickBooks continues to work on helping new users get started without intimidating them with the jargon and minutiae of professional accounting. Like past QuickBooks versions, the application kicks things off with an interview to gather basic information about your business that will determine which accounts it sets up; but at the end, instead of diving straight into what might be a bewildering flowchart of accounting tasks, you can instead work from a new Quick Start Center that offers links to common tasks (invoicing, entering sales receipts and expenses, and so on), as well as tutorials and other resources for beginners. Advanced users can simply shut down the Quick Start Center and head straight to the flowchart interface.
One new feature could save some newcomers lots of time entering data about customers, vendors, and employees: During initial setup, QuickBooks can now import contacts from not just Outlook but also the major Web-based e-mail services (Gmail, Hotmail, and Yahoo Mail). You get a list of everyone who has engaged in e-mail correspondence, with the option to identify each person as either a customer, employee, or vendor so that they show up on the appropriate list in QuickBooks. Fortunately, the default choice is none of those labels, which will likely be accurate for the vast majority of people in a mail file you use for personal messages as well as business communications. You can change the default, though.
More problematic for me was that the contacts shown are apparently only those who have exchanged e-mail with the address of the underlying account: If you use Gmail as a client to collect messages from several e-mail addresses, you won't see the contacts who send mail to the non-Gmail addresses (which in my case included mail to a custom business domain). Consequently none of my regular business contacts showed up in the list QuickBooks produced.
One improvement I did like was the search function, which now operates across the entire QuickBooks database, making tracking down a specific transaction, communication, or invoice easier than ever.
A new Customer Snapshot gathers a range of pertinent information about a customer's history, which can help you make informed decisions on the fly.
A couple of other noteworthy features include the capability–in Premier editions only–to define asset classes for balance sheets, which can help more-complex companies keep their books. In addition, batch invoicing is great for businesses that regularly send identical bills to a long list of customers. It works sort of like mail merge; you create the invoice, and then select the customers you wish to send it to. In a related feature, a Collections Center lets you look up customers with bills that are overdue or about to become overdue so that you can send them notices via Gmail, Hotmail, Outlook, or Yahoo Mail.
QuickBooks 2011 also offers users the option of accepting payment online via the Intuit Payment Network. To take advantage of this feature, you have to create an account providing your bank information, and then check off the Allow online payment box on your e-mail invoices.
Customers can click on a link in the invoice and enter their bank details; there's no cost to the customer and you pay a flat fee of 50 cents per payment received. Obviously your customers have to be willing to give Intuit their bank information, but many of them might prefer to pay electronically than to write and mail a paper check.
Some veteran QuickBooks users may find themselves pushed to upgrade as Intuit expires support for versions older than 2009 on May 31, 2011, meaning you no longer can automate data downloads from banks and other financial institutions.
QuickBooks 2011 may not be a must-have upgrade for everyone, but it does add appealing features if you seek batch invoicing, access via the Web and smartphones, or the capability to accept online payments. You can certainly find adequate small-business accounting software for a lot less than Intuit charges (Simply Accounting or the free Outright.com online come to mind), but you're unlikely to find a more full-featured and polished product.