At a Glance
Expert's Rating
Pros
Category-leading storage capacity
Built-in Wireless-N connectivity
Cons
Less-than-impressive general performance
Lacks diversity (and number) of connections
Our Verdict
A small frame and low price tag aren't quite enough to help Lenovo's IdeaCentre Q150 pull away from the compact-PC pack.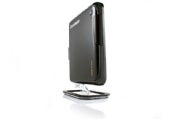 At some point, you know that you've gotten all you're going to get out of a compact PC, and no amount of money you sink into the product will deliver fantastic results. Such is the case with the $350 (as configured, as of September 27, 2010) Lenovo IdeaCentre Q150 compact PC. At that kind of a price, you can't really expect a miracle–and, in this case, Lenovo even struggles to top the performance and feature set of this system's miniature predecessor, the Q100.
To power the Q150, Lenovo opted for one of Intel's latest dual-core Atom processors, the 1.66GHz D510. Joining the CPU is 2GB of DDR3 memory. Unfortunately, that tandem didn't quite race through our WorldBench 6 suite of tests: The system's score of 40 on our benchmark was but four meager points higher than that of the Lenovo Q100 compact desktop.
However, we can't fault Lenovo's love of storage. Offering an extra 350GB of capacity over its predecessor, the Q150 has a total of 500GB. It might not outrun the various compact PCs we've tested over the last year (the Viewsonic VOT530 and its WorldBench 6 score of 90 take that prize), but it certainly beats out all other compact PCs for the sheer amount of stuff you can stash on this small system.
The Q150's case seems unromantic, even by compact-PC standards–it's black, it's tiny, and it mounts on a stand. One unique addition that sets it apart from its peers is a VESA-compatible mounting bracket: When attached to a display, the PC resembles a little parasite stuck on a larger animal, but the feature is an ingenious method for creating some "out of sight, out of mind" space savings.
As for connectivity, the Q150 hovers right around the average mark for the category. Two USB ports and an optical connection for audio on the front join two USB ports, stereo audio connectors, one VGA port, and an HDMI port on the rear. Unsurprisingly, the system has no optical drive. The machine offers a gigabit ethernet connection and 802.11n networking.
The Q150 is bundled with a wired mouse and keyboard, subtracting two USB ports right off the bat. It's bad enough that each device offers no more functionality (for instance, media-shortcut buttons) than what you'd find on leftovers in the bargain bin at the local electronics store. But considering the limited number of USB ports on the Q150, eating up two just to be able to operate the computer subtracts from its utility as a media-streaming device.
Sacrifices are expected in the compact-PC category, and the Lenovo IdeaCentre Q150 is no exception. But in spite of its generous storage capacity, minuscule frame, and palatable price tag, it stumbles in comparison with the competition. If you're looking for a compact bargain and you aren't perturbed by dismal storage capacity, the eMachines ER1402-05 offers superior performance for $300. Just keep in mind that spending a bit more–or heading over to the budget PC category–will net you a PC that isn't quite so anemic.