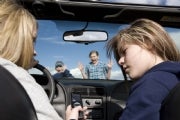 Laws against texting while driving are pretty much worthless in preventing accidents, according to a study that should surprise no one.
Having surveyed four states that have outlawed texting while driving since 2008, the Highway Loss Data Institute concluded that collision claims have not dropped in those states. Actually, the number of crashes increased in three out of the four states.
Here's the money quote from Adrian Lund, president of both HLDI and the Insurance Institute for Highway Safety:
"They're focusing on a single manifestation of distracted driving and banning it," Lund said. "This ignores the endless sources of distraction and relies on banning one source or another to solve the whole problem."
How sweet it is to be proven right. Last April, Oprah Winfrey announced a push to eradicate cell phone use while driving. At the time, I said the effort would be fruitless. For the handful of people who pledged to make their cars "No Phone Zones," I figured there would be countless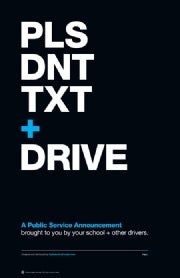 others for which the allure of answering phone calls and text messages (or even checking e-mail) would be too difficult to overcome. America has a culture of distracted driving, and that's not going to change because of a law against texting. I used myself as an example of someone who knows the law and the danger, but can't resist glancing at an incoming message or picking up the phone.
I enjoyed reading the reaction to that story. "If I ever read of an accident involving you, I'll be sure the local courts get an amicus curiae with a copy of this article," read one comment. Here's another: "Jared, could you please give us your license plate number and where you live, so we know to stay out of your way?"
These folks missed the point. To think I'm the only one who's ever been distracted by the phone while driving is naïve. Again, distracted driving — texting, talking, eating, doing makeup, playing with the radio, whatever — is part of the culture. HLDI's study proves it.
Maybe more enforcement is the answer, but it'd have to be so relentless that the majority of people couldn't get away with texting while driving. Unless municipalities suddenly get endless budgets for their police departments, that's impossible.
So I still think the answer lies in better technology. Google's expanded voice actions (including text message dictation) for Android is a start, so is the Dragon Dictation app for iPhone. In-car developments like MyFord Touch are another piece of the puzzle, giving drivers an easier way to communicate and use their phones without taking their eyes or hands off the road. Now, we just need more: More collaboration between car and tech companies, and more awareness that these tools exist.
Superior technology won't be a cure-all to solving distracted driving, but it's certainly a better approach than laws that are so easily ignored.