Don't let the tank-like appearance of Panasonic's Toughbook S9 fool you. According to Panasonic, it's the world's lightest 12.1-inch laptop with a DVD drive, weighing three pounds even.
You might not expect such a superlative from a notebook whose main lure is the ability to shrug off shocks, drops, and spills, but lightweight designs have become somewhat of a pursuit for Panasonic and its Toughbooks; the company also slaps "world's lightest" accolades on its 14-inch F8, 14-inch F9, and 12.1-inch tablet C1.
The latest addition to this "business-rugged" family tries to pack a punch with an Intel Core i5-520M processor, 2 GB of RAM, and a shock-mounted 320 GB hard drive, running Windows 7. Panasonic claims the battery lasts 11 hours on a charge. A couple snags: There's no discrete graphics card, so don't expect the Toughbook to excel with multimedia or games on integrated graphics. And if the S9 is anything like the Toughbook F8, the speakers won't sing, either.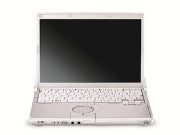 As for durability, Panasonic claims that the Toughbook S9 can withstand 30-inch drops, 6-ounce spills and more than 220 pounds of pressure. Security features include a cable lock slot, an optional fingerprint reader and a Computrace theft protection agent in the computer's BIOS.
Now for the bad news: Panasonic's Toughbook S9 starts at $2,499, securing its place in the niche of military contractors, archeologists, construction site managers, and James Bond types who need the extra durability and security and can afford to pay for it.
In February, PCWorld reported that Panasonic is facing increased competition and slower sales due to cutbacks in military and federal budgets. Maybe Panasonic should think about creating a notebook for the rest of us, striking the extreme ruggedness but staying light enough to earn another superlative.