The ability to change the tempo or tempo/pitch of audio material, as MP3 Speed (free) allows you to do, can be very handy. For instance, musicians can slow down songs to learn fast licks, and DJs can sync tempos for dance mixes. You can also shorten audio books and reduce the amount of disk space required by MP3 files.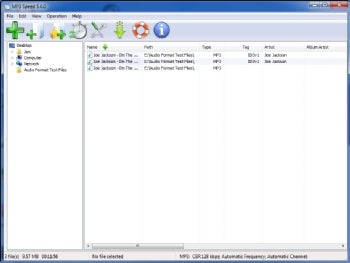 The program is exceedingly easy to use–once you figure out how to actually change the tempo and pitch. It's a breeze to add files and folders, but in a rather odd bit of interface design, clicking on the stopwatch starts the conversion, and the resampling parameters are found in an options dialog invoked by a tools icon. I was expecting them to be front and center on the main MP3 Speed window.
MP3 Speed proved very fast, but it's also very basic. You can only alter the speed by a percentage of the original. There's no tempo discovery or matching, and no presets for converting 78's and 45's recorded on 33 rpm turntables as with Audacity. There's also no matching of bit rates, which means that you can't automatically match the resolution of the original files.
Converted files sound just like what you'll hear when you use the tempo control on the Windows Media, or Quicktime Player. The program allows you to vary tempo from 25% to 500% of the original, which exceeds most practical applications by a healthy margin. You may also change the pitch along with the tempo, but you can't change pitch alone simply to drop or raise the key a half- or whole-tone.
Basic or not, MP3 Speed is a handy tool for the quick-and-dirty tempo conversion. If you don't need anything more, it'll do the job quickly–and it's free.