Grab the nearest box of tissues and get ready to mourn: Another online service is biting the dust.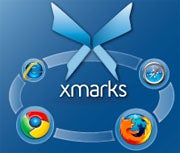 Xmarks, a cross-platform browser synchronization service, will close its virtual doors early next year, the company has announced. In a blog posted this week, Xmarks co-founder Todd Agulnick said the Xmarks setup proved to be ineffective at bringing in the dough — and the company saw no choice but to throw in the towel.
"For four years we have offered the synchronization service for no charge, predicated on the hypothesis that a business model would emerge to support the free service," Agulnick explains. "With that investment thesis thwarted, there is no way to pay expenses."
Xmarks will shut down its servers on January 10, 2011. For those of us who have come to rely on its services — myself included — it's disappointing to see it go. But before you shed too many tears, read on: There are still decent ways to keep your browser data synced in a post-Xmarks world.
Xmarks-Style Syncing, Without Xmarks
The most robust Xmarks-like options are available to users of Firefox and Chrome. Unfortunately, many of the sync features are specific to one browser — what made Xmarks unique was its ability to sync everything seamlessly between different programs — but they'll still get the job done.
For Firefox, it's simple: Grab Mozilla's free Firefox Sync add-on (formerly known as Mozilla Weave). The program saves your browser settings, bookmarks, and passwords, then synchronizes them with your other Firefox installations. If you're using a beta version of Mozilla's Firefox 4, the tool is already integrated into your browser; otherwise, you can download it here.
If Chrome is your cup of tea, Google's built-in Chrome sync utility is the best place to begin. You can activate Chrome sync by clicking on the browser's tool icon, selecting "Options," then selecting "Personal Stuff." You'll see the buttons to configure and begin browser synchronization at the top of that menu. Chrome can sync your bookmarks, preferences, themes, autofill data, and even extensions across multiple installations.
Full-fledged password synchronization isn't available in Chrome just yet, though it may be on the way soon. Not to fear, though: A separate tool called LastPass can handle your saved passwords safely and easily — and, like Xmarks, it works in other browsers, too.
Aside from its multiplatform advantage, LastPass — named one of PCWorld's Best Products of 2009 — offers extra layers of security that make it particularly attractive. It's free, too, though you can opt to upgrade to a premium account that syncs your data with certain smartphone browsers as well.
In the end, you may not have the complete cross-browser, session-saving experience that Xmarks gave you — but with a combination of these three tools installed on your systems, you'll be about as synced as you can be.
JR Raphael is a PCWorld contributing editor and the co-founder of geek-humor site eSarcasm. You can find him on both Facebook and Twitter.