If you were one of the apparently thousands of people who hated the fact that Gmail grouped together an email with all the responses to that email, today you get your wish. Google has made what they call Conversation View an option that you can turn on and off.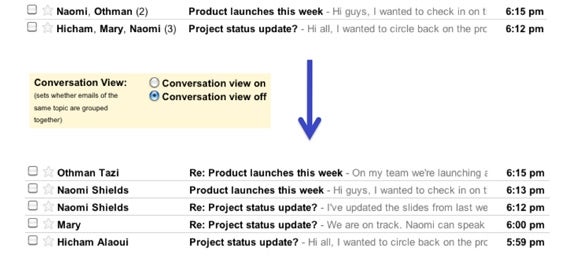 That means that instead of having one email in your inbox that includes all 16 messages from your colleagues about the monthly budget, you can now have 16 separate emails scattered throughout your inbox. (As with other Gmail changes, like Priority Inbox, this one will be rolled out over the next few days, so you may not see the option to turn off threading immediately.)
Now, of course choice is almost always a good thing and there's no reason that people who like unthreaded conversations shouldn't have that option. I'll just never understand why they want it – and why it's a big enough deal to spawn complaint forums that go on for pages and pages.
From what I can tell from reading through the complaints on the Gmail forum, people don't like conversation view because they like to keep their inbox tidy and the threaded approach doesn't let them kill off individual emails in a conversation. In other words, they want to keep their boss's original email about the monthly budget, but not Joe's harangue about people using too many pencils.
I like having a clean inbox, too, but I think the Conversation View haters are off-base. The treaded approach makes it much easier to keep track of the twists and turns of one topic. By default, you only see the messages you haven't read yet; the previous messages are collapsed. But if the most recent message mentions Joe's point about pencils, you can easily expand the previous messages to find it. Compare that with the unthreaded approach, in which you have to get out of the email you're reading, search for messages from Joe and find the one that talks about pencils. Much more of a pain.
Another common argument from anti-Conversation View crowd is that all those messages they can't kill are making their inbox too bulky. Come on people: A basic Gmail account now provides 7.5 GB of storage. Unless your threaded conversations include lots of people attaching high-def video files, those individual messages you can't kill aren't making a dent in your overall storage.
I'm not saying you shouldn't have the option to turn off Conversation View – I'm just saying you shouldn't exercise it.
For 9 tips on getting the most out of Gmail, check out Gmail Tips That Will Let You Take a Long Lunch.
Ed Albro is the PCWorld's Editor. You can follow him on Twitter at edalbroPCW.