The search engine wars are back as Bing goes head-to-head with Google. With Microsoft's Bing jumping into second place in market share and assuming control of Yahoo's back-end search, the stage is set for a Google-Bing showdown.
In an attempt to throw aside preconceived notions, I've compared the most prominent search sections for Bing and Google, hoping that one of the engines would stand out as the winner. I invite you to do the same as you go through the list. (You'll find the full range of Bing's specialized search options on its Explore page. Google also has a page listing its services, both search and nonsearch.)
Basic Web Search
Here's the best way to think of Google vs. Bing in search: Google is laser-focused on its search results sending you to, hopefully, the most relevant Web pages, and it allows you to narrow results by date and location. It also indents results from the same Website for easy scanning. It's a powerful engine for delivering the best links, but it stays away from delivering its own information, such as explanations of people or things, directly in its search results.
Bing is the opposite. Search for a company by name, and Bing gives you the stock price and customer service number. Search for "attractions in Chicago, IL," and you get a list of things to see there. Hover over a link, and you get an option to view some relevant text from the page. Sometimes, Bing even links to related search results, such as "Diabetes Symptoms" when you only search for "Diabetes."
Strictly in terms of the traditional "10 blue links," Google and Bing are fairly similar. (To see this for yourself, do a blind search and try to tell which engine is which.) I sometimes get better results from Google — particularly when trying to recall a specific page from a specific site — but the bigger difference between the sites is how they sort and deliver information. My vote goes to the engine with a no-nonsense ability to serve up good links.
Winner: Google
Images
Bing and Google bring many of the same options to image search, such as "similar images," "more sizes," related searches and style options. Although Google includes some slightly obtrusive image ads, it offers a better interface than Bing, enlarging thumbnails as you scroll over them while showing the text that matches your search, and framing the image neatly when you click on it.
[Editor's Note: A previous version of this comparison inadvertently implied that Google first introduced cascading image search views. It was the author's intent to state that Google led the way in image search generally, though not with these specific features. As noted by some astute readers, it was Microsoft's Bing that first introduced these views, though we prefer Google's implementation.]
Winner: Google
Videos
As with images, Bing and Google offer similar customization options in video search, such as length, quality, and source, although Google has some extra options for closed captioning and recent uploads. Still, Bing excels overall here, with a grid of thumbnails that's a lot easier to navigate than Google's claustrophobic strip.
Winner: Bing
Next page: News, travel, and events
News
Both sites show a few important stories atop their news home pages, followed by clusters of links to multiple sources covering the same story. Google News is more customizable, letting you change the layout of news sections and personalize each section to show more or fewer stories. As for news searches, Google includes links to more sources on a given topic, and it seems to do a better job of clustering stories; a recent search in Bing for "Steve Jobs" returned three separate clusters on the recent ninja star fiasco, which wasn't even that important a story to begin with.
Winner: Google
Travel
Bing has a dedicated section for planning trips. Sponsored search from Orbitz allows you to look up flights, hotels, and cruises, but the best feature for flights is Price Predictor, which guesses whether current fares should be pounced on or passed up. Similarly, hotel search advises you on whether the rate is a deal, just average, or a rip-off. This section is no contest, because Google has no travel section–but that could change with the company's acquisition of ITA Software.
Winner: Bing
Maps
Google and Bing engaged in a map feature war last year, and Bing emerged with more to offer. The Silverlight-enhanced version of Bing Maps includes apps for finding gas stations, parking, food carts, and much more. It also provides landmarks and other notes in its directions ("If you reach Glencoe Ave., you've gone too far"). I like Google's minimalist approach, which is a hair faster than that of Bing, is easier on the eyes, and provides more alternate routes when traffic looms. But Bing is more powerful and generally more informative, and that's what counts.
Winner: Bing
Events
Like Travel, this is another useful category where Google is absent. Bing Events is a simple list of upcoming happenings, powered by the Website Zvents. For instance, a search for "music New York" returns concert listings in the Big Apple, sortable by date and relevance. For some locations, Google shows a few happenings if you search for "events in (city)," but it's not a full-fledged search option.
Winner: Bing
Next page: Shopping, mobile options, and wild cards
Shopping
With the closure of Bing Cashback, which gave discounts just for shopping through Bing, Microsoft's search engine lost a major advantage over Google. Both sites' shopping sections show product details, reviews, and a list of retailers, but I noticed some funky things about Bing. When searching for Apple's iPad or the new video game Halo: Reach, Bing didn't list major retailers such as Amazon and Target. (Google did.) And when I looked for a "bar set," Google returned the appropriate items — shakers, ice tongs and such — while Bing spit out mostly furniture. But Google's biggest advantage is a shopping list feature (the "My Shopping List" link at the top right of the Shopping page), where you can mark items for later perusal or purchase.
Winner: Google
Mobile Options
Bing's iPhone app is more search-oriented than Google's app, which focuses on services such as Mail and Apps, so let's just consider their mobile Websites instead. Bing has a slicker mobile Web interface than Google does, with a selection of categories you might be inclined to search on the go (local, maps, directions, movies and weather), but it suffers from a critical flaw: Plain old search results stink. Unlike Google, there are no contextual results in the stream, such as news, images and video, and bulky ads clutter the search field. Fancy features mean nothing when you flub the basics.
Winner: Google
Social Search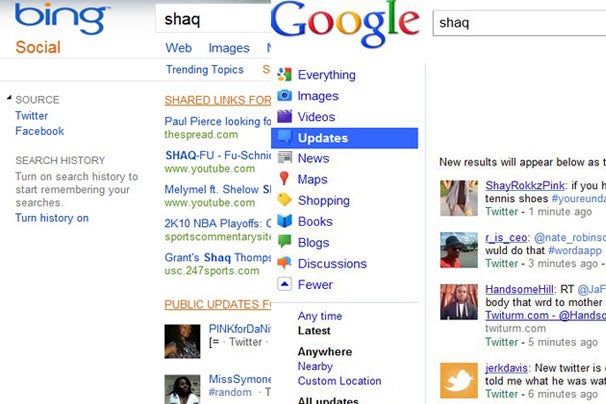 Famous people, such as movie stars, get special status on Bing, with their tweets appearing in relevant searches. Otherwise, Bing Social is a plain mix of trending topics and recent status updates. Google, by comparison, pulls from your own social circle, and search options are more robust, allowing you to search through time for status updates, get e-mail alerts for updates, and narrow by location.
Winner: Google
Text Shortcuts
Despite what I wrote before about Google's focus on links, rather than information, both engines sometimes serve up cold, hard facts above their search results. Both engines have the essentials, like currency conversion, calculations, dictionary definitions, sports scores, and stock prices. But Google has a few extras, like sunrise and sunset times, recent earthquake information, and numbers for poison control and suicide prevention. The amount and type of instant answers available are always subject to change, but Google has the edge for now.
Winner: Google
Wild Cards
Bing's recent push to become an entertainment hub is impressive, with songs, lyrics, and images, and even full television episodes and casual games appearing in search results. Bing also offers Visual Search, a fun mash-up of images and information that looks pretty cool, though I haven't felt compelled to actually use it.
As for Google, I'd be remiss not to mention the very new Google Instant, a drastic change to the main search engine that displays and alters search results as you type. Though I've yet to decide whether it's useful to me (by habit, I still complete my thought and hit "Enter"), it's technically impressive, and fortunately, you can easily switch it off. Google's strongest wild cards, however, are services like Docs, Gmail, Reader, and YouTube. Because these useful services are always accessible from Google's top navigation bar, it helps to make Google's Websites "stickier" as a whole.
Winner: Google
And the Winner is …
The contest wasn't completely one-sided. I'm impressed by Bing Maps and Video, and puzzled that Google has no answer to Bing Travel and Events. Still, Google was superior in more categories, especially the ones that count most, like search, news, and mobile.
For business users especially, Google's stronger search tools are more useful than Bing's instant answers. Searching for results within a date range is invaluable when trying to find published reports that are years old–and when you're looking for Websites with reliable information, getting more links from Google is better than Bing's constant suggestions and interjections.
Perhaps the best measure of all is personal experience. Like most people, my primary search engine is Google, but I switched to Bing for a week while writing this feature. Now that it's in the can, I'm ready to switch back.
Winner: Google