A reader by the name of Peace8 asks this question:
How do I put a shortcut on the desktop so I don't have to continually type in the name of frequently visited sites?
I hope you're not saying that every time you start your browser, you manually type in www.pcworld.com–but I fear you are. So let's address that issue first.
Every Web browser lets you build a list of favorites, precisely so you don't have to manually type in the URLs (i.e. Web addresses) of the sites you want to visit. All you do is click the name of the site or page and presto, you're there. Not sure how to create or access favorites? Get a friend to show you, or do a little Googling.
But what you're looking for are desktop shortcuts to some of your favorite sites. No problem: Windows has made this possible for as long as I can remember. (Bonus points to anyone who knows which version of the OS debuted this feature.) Here's how:
1. Right-click an empty area of your desktop, then click New, Shortcut.
2. Type the Web address of the desired site (such as, oh, I don't know, www.pcworld.com–you can leave off the http://), then click Next.
3. Type a name for the shortcut, then click Finish.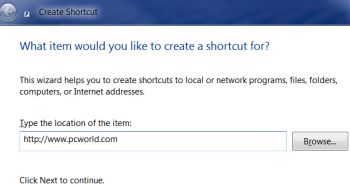 That's all there is to it! Now, when you double-click that shortcut, the site will immediately appear in your default Web browser.
Interestingly, the upcoming Internet Explorer 9 will allow you to add Web favorites to your Windows taskbar, putting them one click away no matter what you're doing.
Peace out, Peace8.