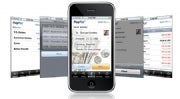 Online banking is about to get even more convenient for PayPal users who will soon be able to deposit checks via their iPhone. Simply sign the back of your check, take a picture of the front and back of the check, and hit send on the PayPal iPhone App. The only drawback? No lollypops at the teller window to grab when you're done.
PayPal's Laura Chambers announced Wednesday that a new version of the PayPal iPhone app will be released in "the next day or so," according to a TechCrunch report. PayPals updated app will also allow you to donate directly to charitable organizations (PayPal has partnered with over 20,000 charities).
Been There, Deposited That
Mobile check depositing via phone cameras isn't new. PayPal joins a growing list of financial institutions. Private bank and insurance company USAA introduced the function on its iPhone app over a year ago, and Chase has just recently followed suit. USAA also allows its members to deposit checks from home using a scanner.
The process is simple–first, endorse your check (with your account number, or perhaps PayPal email address). Then, enter in the check amount into the app, snap a photo of the front and back of your check, and upload it to the app. The USAA app suggests that you take the photos in even lighting and place the check against a dark, non-reflective surface.
Mobile Banking Safer Than Desktop Banking?

Not only is mobile deposits convenient, it's actually safer than other desktop-based methods that utilize a flatbed scanner. Cell phones are more secure than computers when it comes to malware (less likely to be attacked), which is one of the biggest risks of online banking. Once caveat, with mobile banking you need to take the appropriate precautions such as using a PIN number to lock your phone so your mobile phone and access to your bank account isn't an identity-theft waiting to happen.
According to PayPal an update to the free PayPal iPhone app will be rolled out in the next couple of days.