Boasting 500 million users worldwide and still growing, Facebook is now ubiquitous. Because of its popularity, minors have jumped onto the social media bandwagon, too, and they use networking the same way adults do–to share pictures, connect with friends, organize events, and play social games. And that can be a problem.
For the most part, Facebook provides a fun and safe way for users of all ages to communicate with their pals. But because kids and teens are, well, kids and teens, they're the ones most at risk of falling victim to the dangers of Facebook.
With a bit of strategic parental guidance, you can educate your kids about the potential hazards of social media and give them the tools they need to protect themselves from online predators, guard their personal information, preserve their online reputation, and avoid suspicious downloads that could harm your PC.
Facebook and Kids
An iStrategyLabs study documents the growth rates of Facebook profiles in the United States based on age, gender, location, education level, and interests. The study shows that from January 2009 to January 2010, the 13-to-17-year-old age group grew about 88 percent in the U.S., jumping from about 5.7 million teenage Facebook users to almost 10.7 million. Those figures, of course, don't include minors who lied about their age upon creating their profile.
Despite a legal requirement that kids must be 13 or older to sign up for Facebook, many younger children are using the service. Because no perfect age-verification system exists, younger kids are able to slip by unnoticed through falsifying their age. (For instance, I have one friend whose 12-year-old daughter listed her birth year as 1991 on Facebook, thereby claiming that she was 19 years old.)
The safety and public-policy teams at Facebook are aware of their young audience, and the site has rolled out privacy settings specifically for the under-18 set. Users between the ages of 13 and 17 get what Facebook's privacy policy calls a "slightly different experience." Minors do not have public search listings created for them when they sign up for Facebook, meaning their accounts cannot be found on general search engines outside of Facebook.
The "Everyone" setting is not quite as open for minors as it is for adults. If a minor's privacy settings are set to "Everyone," that includes only friends, friends of friends, and people within the child's verified school or work network. However, the "Everyone" setting still allows adults to search for minors by name and send them friend requests (and vice versa), unless the account owner manually changes that. Also, only people within a minor's "Friends of Friends" network can message them.
Facebook recently premiered a new location-based service called Places, which has some restrictions for minors as well. Minors can share their location through Places only with people on their Friends lists, even if their privacy settings are set to "Everyone."
As for the teens who lie about how old they are, Facebook does have a way of verifying age. If, for instance, a 19-year-old is mostly friends with 13- and 14-year-olds, and they seem to be taking lots of photos together, then Facebook might suspect that the user is actually 12 or 13–and then it may flag the user's page for removal or give the user a warning.
The Basics: Protecting Personal Information
Even with Facebook's privacy policy for minors, a child's personal information is still widely on display. A young person's Facebook account is just the beginning of their online footprint, and they need to take that fact seriously, since it can affect their reputation today and potentially come into play later in life when they're applying for college and for jobs.
Facebook public-policy representative Nicky Jackson Colaco advises parents to sit down with their kids and talk about the importance of protecting one's online identity. Maintaining open communication with your children is the key to understanding exactly how they're using Facebook.
"I'd never send my son onto the football field without pads and knowledge of the game," Colaco says, "and it's exactly the same with Facebook."
If you have a Facebook profile, consider sending your child a friend request–not necessarily as a spying tool, but to remind your child of your own online presence. If you don't have a Facebook account, ask your child to show you their profile. It helps to familiarize yourself as much as possible with the site's privacy controls and other settings, because the more you know about Facebook, the better equipped you can be if something serious ever arises.
It's also a good idea to take a look at your child's photos and wall posts to make sure they are age appropriate. Remind your child that the Internet in general, but especially Facebook, is not a kids-only zone, and that adults can see what's on their profile as well. Maintaining an appropriate online presence as a teenager will help your child build a respectable online footprint. Remember: The Internet never forgets.
If your kid really has something to hide, they might make a Facebook profile behind your back, or have one account that's parent-friendly and a separate account for their friends. If they show you a profile that seems skimpy on content, that could be a red flag. That's where PC and Web-monitoring tools could come into play (see the "Monitoring Behavior" section on the next page).
Finally, go over Facebook's privacy settings with your child, and show them how to activate the highest level of security. Emphasize that Facebook is a place for friends and not strangers, and then change their profile to "friends only." Again, remind your child to be wary of what they post in their status updates, since oversharing online can lead to consequences in the real world.
"As the site gets bigger, it's important to have everyone working together–us, parents, kids, our safety advisory board–to make sure the site remains a safe place," Colaco says.
Cyberbullying
The suicides of 13-year-old Megan Meier and 15-year-old Phoebe Prince have brought media attention to the potentially devastating effects of cyberbullying. A study performed as part of the Pew Internet & American Life Project, a division of the Pew Research center, reports that "32 percent of online teens have experienced some sort of harassment via the Internet," including private material being forwarded without permission, threatening messages, and embarrassing photos posted without their consent.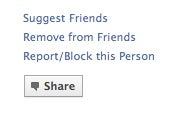 Research performed at the Massachusetts Aggression Reduction Center shows that, while adults are inclined to moderate their online behavior, children and teens are "significantly more willing to 'go further' and to type very shocking things that they would never say in person… Kids believe that online statements simply 'don't count' because they're not being said to someone's face."
Because young people tend to believe that they aren't accountable for their online actions, Facebook becomes a convenient place to target victims for bullying. Although you can't do much to prevent your child from being bullied online, you can help them end the harassment if it starts.
The MARC Center has several guides offering tips on how to handle cyberbullying, and all of them start with communicating directly with your child–don't be afraid to get involved. If you think your child is being bullied, advise your child to spend less time on the site in question, or flag the bully by notifying the Website. If the behavior is also happening at school, notify the school's administrators so that they, too, can get involved.
Facebook also makes it easy to report harassment issues, and encourages users to do so. But what if you find out that your child is the one doing the bullying? Both scenarios are possible, and both should be dealt with.
In a New York Times Q&A session on cyberbullying, expert Elizabeth K. Englander of the MARC Center addresses an approach that parents should take if they discover that their child is the bully. She first recommends that you discuss with your child why cyberbullying is hurtful, and bring up some of the tragic cases of teen suicide related to online harassment. Try to understand that your child could be reacting to pressure from friends, or that your child may be retaliating against someone who hurt their feelings in a similar manner. Although such circumstances don't excuse the behavior, learning about them could bring a larger issue to your attention.
Finally, establish a set of rules for your teen to follow when using Facebook and other social networking sites, and monitor your child's usage, perhaps even placing a daily time limit.
Stranger Danger
Earlier this year, 33-year-old Peter Chapman was sentenced to life in prison for kidnapping, raping, and murdering a 17-year-old girl he met through Facebook. Chapman, a registered sex offender, had created a fake profile and pretended to be 17 years old to gain the victim's trust.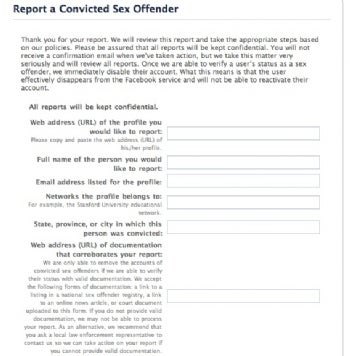 Despite Facebook's valiant efforts to rid its site of online predators, the system isn't foolproof. The site has banned convicted sex offenders from joining, and in 2008 all of the known sex offenders already on the site were removed. However, considering the case of Peter Chapman, predators are still finding ways to cheat the system.
As mentioned earlier, you can limit privacy settings so that your child is directly interacting only with people they know–and more important, you can hide information such as your child's age, school, and full name from people who are not direct friends.
Stress to your child the importance of avoiding people they do not know in real life. Even if the stranger's profile says that they are the same age as your child and that they go to a nearby school, the profile could be a decoy. Your child can report to Facebook any stranger who tries to contact them or engage in inappropriate activity.
Third-Party Applications
Many third-party applications on Facebook are aimed directly at teens–often they involve games, establishing crushes, or sprucing up profiles. But many kids don't quite grasp that these Facebook components are not actually created by Facebook, and that therefore they have different terms of service.
Even worse, some of these external downloads could contain malware. Sunbelt Software has reported several suspicious Facebook scams, from a Texas Hold'em poker app containing adware to various phishing scams under similar disguises.
Make sure you have an up-to-date antivirus program and ad-blocking software that could catch these threats. Talk to your kids about skimming through the terms of service and privacy policies for applications before they accept the download. Also advise them never to open a link posted on their wall from someone they don't know–it could point to a malicious site.
Monitoring Behavior
If you want to keep a more watchful eye on your kids' online behavior, you can use any of several effective tools.
SafetyWeb is an online service geared toward parents who wish to keep tabs on what their kids are doing online. It checks across 45 different social networking sites to see if your child has a registered public profile, and it monitors those accounts for any potentially threatening activities. Monitored platforms include Facebook, Flickr, MySpace, Twitter, and YouTube. It also recognizes LiveJournal as a social network and will monitor that site, but it has yet to include other blogging platforms such as Tumblr.
The service will notify you, the parent, if your child has posted anything potentially unsafe or inappropriate, within categories related to drugs and alcohol, sex, depression, profanity, and cyberbullying. That way, you can check your child's public activity without having to join every site or read every post they make.
McGruff Safeguard software takes online monitoring a step further: It can record every move your child makes on the Internet, covering everything from instant-message logs to search terms on Google. Parents can keep a close eye on their children and discuss any behavior found to be dangerous or inappropriate.
Whether you use a software monitoring tool or not, experts agree that having regular conversations with your children about their online usage is the most important element to keeping them safe and aware of the dangers of the Web.