At a Glance
Expert's Rating
Pros
Gorgeous screen
Business-rugged
Cons
Artifacting and shimmering in high-def video
Touch buttons on top are not super-responsive
Our Verdict
If you're looking for a business-rugged laptop that has all the power of a desktop and all the sexiness of a Mac, this is the notebook for you.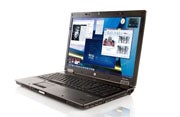 The HP EliteBook 8740w is a highly configurable, business-rugged desktop replacement laptop that actually looks pretty cool. You can have it configured with a Core i5 or i7 processor, up to 32GB of 1333MHz DDR3 RAM, over 1TB of hard-drive space (or up to 256GB of solid-state drive space), and HP's "DreamColor" screen. Naturally, such a loaded model will set you back considerably (here's a hint–the DreamColor screen alone will cost about $600), but it's nice to have the options. For those of us who aren't flush with cash, however, the prebuilt EliteBooks still offer a lot of power in an attractive package.
The EliteBook 8740w starts at a somewhat hefty $1999. Our review model, about $3000 (as of October 1, 2010), had a 2.4GHz Intel Core i5 520M processor, 2GB of RAM, a 250GB hard drive (running at 7200 rpm), and Windows 7 Professional (64-bit). It also featured a 2-megapixel built-in Webcam, an nVidia Quadro FX 3800M graphics card with 1GB of dedicated video memory, Wi-Fi 802.11b/g/n, Bluetooth, and a DVD±RW drive.
Slick and sexy, the EliteBook 8740w has a slate-gray, brushed-magnesium-alloy cover and a black plastic chassis. In the middle of the cover is a small, shiny silver HP logo with "EliteBook" below it in matte white text. The inside of the laptop is also pretty: The gray magnesium alloy carries over onto the wrist rest, while the keyboard and screen bezel are smooth black plastic.
Running along the top of the keyboard is a black strip that constitutes a number of touch buttons for updates, Internet, Wi-Fi, touchpad on/off, volume control, and the calculator. These buttons, while cool-looking (they glow in teal and blue when turned on, and orange when turned off), are not as responsive as they should be.
As for connections, the EliteBook 8740w is fully equipped with two USB 2.0 ports, two USB 3.0 ports, an eSATA port, an ethernet port, a DisplayPort connector, a VGA port, FireWire, a docking connector, a secondary battery connector, an Express Card slot, a Smart Card reader, and headphone/microphone jacks.
This is a desktop replacement, so its weight is unsurprisingly not one of its strengths–this bad boy weighs 7.8 pounds, not including its monster of a power brick. The 17-inch laptop (I use that term liberally) measures 15.6 inches wide by 11.2 inches long by 1.4 inches deep. Although toting this thing with you is like carrying a small child around, you can bring it along if absolutely necessary.
If you can't make up your mind as to whether you like Chiclet keyboards or regular ones, the EliteBook 8740w has you covered: Its keyboard is designed to offer a Chiclet-style feel with a regular-style look. Although the keys are smooth, black, and Chiclet-shaped, the bottom of each key tapers out to present a more connected appearance. Frankly, I'd prefer it the other way around–a Chiclet-style look with a regular-style feel. That said, the keyboard is very comfortable to type on (if a little slippery), and the keys give excellent feedback.
The keyboard is also a testament to the "business-ruggedness" of this laptop: It has a drain that funnels out the bottom of the laptop, so spilling coffee onto your computer is no longer as much of a problem. The only minor annoyance I have with this keyboard is the backlight (which you can turn off but not dim in increments). If you are sitting a comfortable distance from the computer and it's on a table or desk, you are at just the correct angle for the backlight to shine out from underneath the keys and into your eyes. In this regard, a Chiclet-style look would have been much better.
The touchpad is a nice size (not too small, though not as big as some that I've seen), and its surface is an easy-to-use matte black. Three equal-size, rubbery buttons accompany it. The machine also has a textured pointer stick (similar to Lenovo ThinkPad eraserheads) nestled between the G and H keys on the keyboard. The touchpad is quick and responsive; the buttons, meanwhile, are easy to press, though a bit weird feeling. The equal size of the buttons is a tad annoying, as the middle button (normally the scroll wheel on a physical mouse) seems to take up valuable space.
The EliteBook 8740w sports a gorgeous 17-inch, 1920-by-1200-pixel, LED-backlit screen that provides superb color reproduction and amazing blacks. The screen surface is matte, but on the shinier side–you'll still see some reflections in bright light. The viewing angle is fairly good: Even though the screen gets a little darker as you move to either side, the colors stay decently bright and vivid.
Video playback is very good. Streaming a video on Hulu or Netflix is absolutely no problem, but you won't get perfect results with high-def clips. Microsoft's "Wildlife in HD" sample clip, for example, has just a little artifacting and shimmer, especially at full screen. Although the colors are excellent, the shimmery backgrounds are a little annoying.
The speakers, located on the front of the laptop just underneath the wrist rest, are fairly loud. Even in a crowded, bustling room, you'll get a nice amount of bass and enough sound to at least hear what's going on. Music sounds a bit tinny, especially at higher volumes, but the effect is hardly noticeable.
If you're into power and prettiness, the HP EliteBook 8740w is for you. With prebuilt models starting at $2000, the EliteBook 8740w is a decently priced desktop replacement, and it's sexy to boot. The brushed-metal chassis definitely makes the EliteBook 8740w look, well, elite–unlike a lot of boring, clunky business-rugged laptops. And if you want power, you can have it: Custom configurations of the EliteBook 8740w easily surpass $7000.