XP veteran Srinla finds navigating folders in Windows 7 a bit confusing, and asked the Windows forum for help
In the Windows 7 version of Windows Explorer, as with XP's version, you use the left pane to navigate through folders, drives, and other locations. It looks different, but in many ways it behaves the same way.
If you don't see the left pane in Windows 7's Explorer, click Organize, then Layout, and check Navigation pane.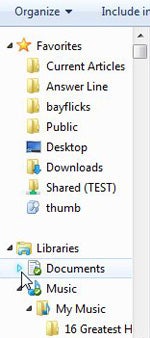 Windows 7 divides the Navigation Pane into sections, all of which are collapsible and show locations. The first of these, Favorites, is the only one that isn't hierarchical; in other words, it shows your favorite folders, but not the folders inside them. You can add a folder to your Favorites by dragging it there.
The next section, Libraries, gives you Documents, Music, Pictures, and Video, all expandable for the folders inside of them.
The Computer section is like My Computer in XP. Expand that and you'll find all the drives on your computer, the folders inside those drives, and so on.
Windows 7's Explorer has another, very cool way to navigate folders. The path at the top of the window is actually a series of buttons and pull-down menus. Click any of the folders listed, and Explorer will take you to that folder. Click the arrow to the right of a folder name, and you'll get a pull-down menu of the folders inside it.
Click to the right of the last folder on the right, and the path becomes text you can copy and paste.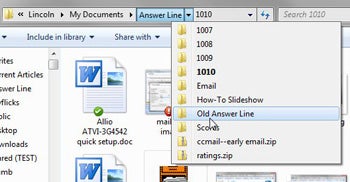 Read the original forum discussion.
Add your comments to this article below. If you have other tech questions, email them to me at answer@pcworld.com, or post them to a community of helpful folks on the PCW Answer Line forum.