We've been hearing about Apple's alleged plans for touchscreen-equipped iMacs for months now, and the rumors continue to swirl. The latest gossip arrives courtesy Digitimes, a Taiwanese trade publication that's a bountiful source of Apple-related scuttlebutt. So what's new? Display manufacturer Sintek Photonics has reportedly shipped samples of capacitive touch panels to Apple, which plans to incorporate the technology into the next generation of its iMac all-in-one desktops, Digitimes reports.
The story seems credible, particularly as it follows a series of recent reports that suggest a touchscreen-enabled iMac is in the works. In August, for instance, Apple-centric blog Patently Apple did some sleuthing and uncovered a January 2010 patent that shows an iMac-like display that flips from vertical to horizontal orientation.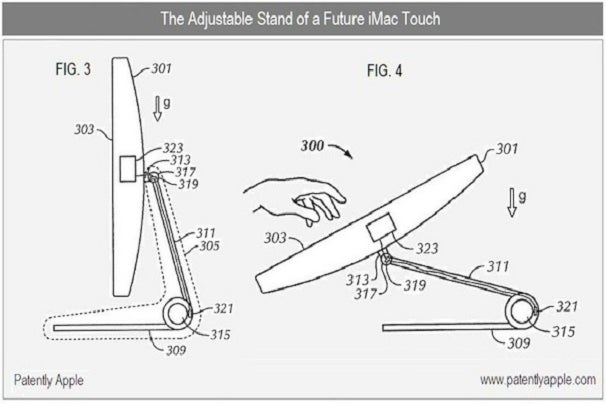 A reclining iMac would be a clever (and essential) component of a touchscreen desktop UI, which presumably would adopt much of the functionality of Apple's touch-based mobile devices, including the iPhone, iPad, and iPod Touch. Without an optional horizontal orientation, touch input on an iMac could prove an ergonomic disaster, one resulting in the dreaded "gorilla arm" effect that afflicted users of early touch-input hardware in the 1980s.
According to Wikipedia, designers of these touch-menu systems "failed to notice that humans aren't designed to hold their arms in front of their faces making small motions. After more than a very few selections, the arm begins to feel sore, cramped, and oversized—the operator looks like a gorilla while using the touch screen and feels like one afterwards."
Today's iMacs come in 21.5- and 27-inch models, and the technology required to build 20-inch or larger capacitive touchscreens is complex.
"Projected capacitive touch panels are typically produced by placing touch sensors over the panel, and then a cover glass over the sensors. The conventional method is not only costly and complex, but (also) affects display brightness," Digitimes reports.
The touch-enabled iMac will reportedly have good vertical and horizontal viewing angles, and its "one-glass" touch panel will integrate the sensor and cover glass for a slimmer, lighter design.
An unresolved question is whether the alleged touch iMac will run Apple's desktop OS X and its mobile iOS. One scenario: OS X operates in vertical mode, while iOS takes over in horizontal. The dual-OS design sounds tricky, however, and one must wonder if Apple can implement it while maintaining the top-notch user experience it's famous for.
Contact Jeff Bertolucci via Twitter (@jbertolucci ) or at jbertolucci.blogspot.com .