In what could be a considerable boon for Android users, Google on Friday acquired Blind Type, a San Francisco-based maker of touch-typing software for smartphones.
Though Blind Type's app hasn't yet been released, it aims to make it easier for users to type on their touch-screen devices. Such typing can be a challenge, since there's no tactile feedback for each key the way there is on a QWERTY keyboard, for instance.
While current typing aids still assume a static representation of the virtual keyboard at a predefined location on the device's touch screen, Blind Type's software dynamically figures out what the user means to type, even if the taps made on the keyboard don't match those letters.
If a user types "Rgw" at the start of a sentence, for instance, Blind Type would instantly figure out that that person's perceived keyboard is shifted left of the traditional keyboard by one key, so that "R" means "T," "g" means "h" and "w" means "e"; it would then automatically correct that word to read "The."
An 'Arbitrary' Keyboard
There is also Swype for Android, of course, which lets users form words by sliding their fingers from one letter to another rather than tapping on them. Like most existing contenders, however, that approach also requires intense concentration on the keyboard rather than effectively moving it into the user's mind.
"Although an on screen QWERTY virtual keyboard is displayed, BlindType does not assume internally that this keyboard actually exists at the predefined fixed location on screen," the company explains. "By leveraging this technology, BlindType allows the user to type anywhere on screen and at various orientations, with the only requirement being the use of the familiar keyboard layout (QWERTY) while tapping. Users can type with an arbitrary QWERTY keyboard in their minds, by using the touch screen without the traditional need to always look at it."
By calculating and then dynamically adjusting to the user's arbitrary keyboard, then, Blind Type lets them type accurately without looking at the keyboard. Increased speed and a reduced error rate are among the results, but there are no gestures or other new motions to learn.
A video on YouTube demonstrates Blind Type in action.
iPhone Users Out of Luck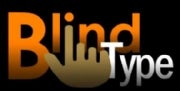 Terms of Google's acquisition were undisclosed; rather, a blog post on Blind Type's site simply made the announcement.
"We're excited to join Google, and look forward to the great opportunities for mobile innovation that lie ahead," the company wrote on Friday.
Now that the technology has become Google's, however, it's a safe bet it won't be appearing anytime soon on the iPhone or iPad.
With about 17 percent of the market currently, according to comScore, Android is widely predicted to lead the market as soon as the end of this year. Now, with the additional speed and accuracy benefits of Blind Type's intelligent software, the acquisition could create one more reason for users to choose Google's platform over its competitors.
Follow Katherine Noyes on Twitter: @Noyesk.