At a Glance
Expert's Rating
Pros
Delivers dozens of Internet sites and services
Customizable screen layout and app collections
Good media streaming
Cons
Content can take a while to load; touchscreen isn't super-responsive
A bit pricey; no full-blown browser
Little printed documentation
Sony marketing content can appear, uninvited
Our Verdict
The Sony Dash delivers lots of Internet content as well as traditional radio alarm-clock features, but its price and its lack of a full browser might put off potential buyers.
You couldn't really tell from the ads–or for that matter, from Sony's own description of it as a "personal Internet viewer"–but the Sony Dash is much like a radio alarm clock reimagined for the connected home. If you like the idea of having newspaper headlines, Facebook and Twitter updates, YouTube videos, and even a few simple games at your fingertips before you get out of bed in the morning (not to mention the more traditional alarm clock and radio functions), you might have fun with this ambitious gadget.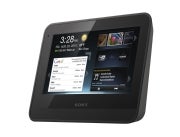 However, $180 (price as of October 4, 2010) is a lot to pay for a device that might not be as customizable as you'd like. Basically a Chumby Internet appliance gussied up with sleek Sony industrial design and widgets from the Sony Bravia TV collection, the Dash delivers (via a Wi-Fi connection only) prepackaged nuggets of the Internet's greatest hits in formats suitable to its 7-inch capacitive touchscreen. You choose items from the extensive offerings in its setup menus.
Since the Dash lacks a built-in browser, you can't roam the Web at will; if the site or service you want isn't on the menu, you're out of luck, although the Dash's dozens-strong widget collection continues to grow. While the touchscreen invites interactivity, you can set up accounts requiring login (Facebook, Twitter) only through a Sony Essentials account that you must create in a desktop Web browser. You must also consult the Web to figure out how a lot of the features work, as the printed documentation is woefully inadequate. And Sony couldn't resist loading the Dash with marketing for its entertainment properties–tossing in, for example, a collection of Michael Jackson videos and a screen layout themed to The Dr. Oz Show.
In size and shape, the Dash looks roughly like other current radio alarm clocks. The screen occupies almost the entire front surface of the unit. Measuring a little over 7.5 inches wide and 5.5 inches high, the Dash has a trapezoidal profile, measuring 2.4 inches at its base, that gives it stability. It weighs about 1.2 pounds, and has a rubberized black case with snooze and menu-access buttons on top. In true appliance tradition, it has no on-off toggle or even a reset switch: You plug it in, and it boots up–not instantly, but in well under a minute.
The 800-by-480-pixel screen is crisp and bright, but I didn't find its touchscreen nearly as responsive as those on iPhones or iPads–sometimes I had to touch a software button or swipe (to scroll) a few times to get a response. The Dash unfortunately does not support multitouch, as devices like the iPhone do. The device has an accelerometer, so the display can rotate–which is somewhat odd since turning it upside down on a table prevents access to the Menu/Snooze button, and people typically don't hold these sorts of appliances in their hands. More useful are the headphone jack and a USB 2.0 port for playing media on an external storage device.
Right out of the box, the Dash display defaults to a dashboard that shows several rows of icons for preset apps (you can't change them) that offer both Sony content and partner content. The dashboard also has a larger window that displays material from a customizable app collection, or "channel," in slideshow style; it shows the date, time, and weather, as well. You can maximize an app so that it covers the entire screen by tapping on a frame in the upper-right corner of the channel window.
Press the Menu button on top of the Dash, and a set of basic on-screen controls appears along the bottom of the display, including an app launcher for immediate access to the apps in the current channel; Snooze-button settings; day and night brightness settings; a mute button; a list of Internet radio stations, including popular ones such as Pandora and Shoutcast; access to media on a USB drive, where applicable; and night mode, which consists of a clock showing the time in large numbers with a Power Save button for turning off the display completely to keep it from glowing in the dark. The device exits Power Save when you touch the display.
To the left of those controls is a software Menu button that produces customization options in a vertical bar on the left side of the screen. Before you can do much of anything else, you must set up a Wi-Fi connection. However, the Dash supports only 802.11b/g Wi-Fi, older standards that don't have the range (or speed) of the current 802.11n technology. As a result, you might not be able to use the Dash if you're too far away from your Wi-Fi router, which could be a problem in some larger homes. I also noticed a fair amount of latency in downloads–images, news headlines, and Facebook and Twitter feeds took several seconds to appear, and videos took a while to load.
That said, I was pleasantly surprised to find that once the Michael Jackson videos and Netflix on-demand movies finally started, they streamed quite smoothly over my home network from about 40 feet away, which speaks well to the Dash's buffering technology. I wish its audio were more robust, however; I had to turn up the volume buttons all the way to get decent sound for music or videos.
A 'Themes and Apps' button provides access to a variety of screen layouts, as well as to application channels. You can get rid of Sony's presets by switching to the App View theme, or try the aforementioned The Dr. Oz Show theme, which you can customize with your zip code to access the show's local listings. You can also add or remove apps from the default channel, or you can create new channels by choosing from various categories–news, games, entertainment, social networks, and so forth.
The application offerings include not only Chumby applets for everything from a Gmail reader to Facebook, Twitter, and sudoku but also content developed for connected Sony Bravia TVs. I needed only a few minutes to set up a personal channel with a handful of news, social networking, and photo sites plus a couple of little games. The device provides ample controls for items such as how often an application displays in the slideshow view, or whether it should be pinned to the display. Individual apps can have additional options; for example, the New York Times headline feed has a button that sends a story to you by e-mail if you don't have time to read it on the Dash.
A software keyboard pops up when needed, such as when you want to update your Facebook or Twitter feeds, or reply to e-mail. Again, the on-screen buttons don't always respond as well as, say, an iPhone or iPad keyboard–and without predictive text entry to speed things up, typing a message can take a while. But it gets the job done.
Overall, I found the Sony Dash to be a charming–if somewhat limited–upgrade to a traditional clock-radio, especially for anyone who doesn't keep a netbook, laptop, or iPad handy for full-blown Web browsing. It succeeds at putting a lot of connected information at your fingertips, be it on your bedside table or in your main living area. At its price, however, the lack of a real browser, the latency issues, and the somewhat balky touchscreen might be fatal flaws for people who would want everything else it delivers–and the lack of adequate documentation might scare off less-technical buyers.