At a Glance
Expert's Rating
Pros
Nice keyboard and Bluetooth
Excellent battery life
Cons
Pricey for what you get
Poor video performance
Our Verdict
This stylish netbook has great battery life, but it doesn't handle high-definition video well.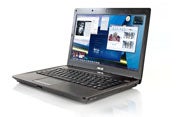 If you're familiar with Asus's Eee PC series of netbooks, the vendor's $369 Eee PC 1015PED will hold few surprises for you. It has softer, more rounded appearance than previous models, such as last spring's Eee PC 1001P-MU17 and Eee PC 1201N. Other than that, it relies on the same formula that the company has followed for the past few years with the addition of an Intel Atom N475 CPU and Bluetooth.
With a score of 38 on WorldBench 6, the 1015PED tested marginally better than the average for Atom-based netbooks. However, in my hands-on evaluation, it felt sluggish. Part of the problem might be that the netbook runs Windows 7 Home Starter with just 1GB of DDR memory and a relatively slow 5400-rpm 250GB hard drive.
Pruning the background apps improved the overall feel, but video performance was very disappointing. I noticed some jerkiness even in several medium-bit-rate 720p videos. And both 1080p and high-bit-rate 720p video (which has become my baseline for such things) were unwatchable. I had to step down to low-bit-rate 720p and 480p resolution before movies consistently played smoothly. It's a shame because the 10.1-inch, 1024 by 600 display is a nice vehicle for movie watching, and the audio–though tinny–is far less muddy than on many netbooks.
In other respects the Eee 1015PED's components and connectivity are top-notch: You get three USB 2.0 ports ( USB 3.0 is available on some non-U.S. versions), gigabit ethernet, VGA, audio in/out, Bluetooth 3.0, a five-in-one memory card reader, and a switch for the 802.11n wireless.
The Chiclet-style keyboard has a nice feel, though it's a tad cramped, as many netbook keyboards are. The fairly large gaps between the keys and edges of the wells they're mounted in may require relatively frequent cleaning to keep debris from gumming up the works. The touchpad is nicely responsive, but, the spongy, long-travel, rocker-style button required an annoying amount of effort to register a single-click, let alone a double-click.
On a much more positive note, the 1015PED aced our battery longevity tests, running for a whopping 8 hours, 28 minutes before turning off the lights. That impressive battery life makes the 10.3-by-7.0-by-1.4 inch, 2.76-pound unit suitable for collecting frequent flier miles on cross-Atlantic flights.
The 1015PED's software bundle includes Microsoft Office 2010 Starter for productivity tasks, Cyberlink's YouCam for the included 0.3-megapixel Webcam, a trial version of Trend Micro's Internet Security, and Syncables' Desktop SE for keeping your netbook's data in sync with the data on your other computers. Asus offers 500GB of online storage free for one year–a convenient way to keep your netbook completely backed up.
If you'd tap rather than click, and you don't care about high-def video, the 1015PED will do the job–and it keeps going for a long time under its own battery power. Investing another $20 for the 1015PEM, with its dual-core Atom processor, might remedy the video problem.