At a Glance
Expert's Rating
Pros
Facile and versatile disc-burning suite
Cons
Marketing annoyances abound
Our Verdict
Capable disc burning suite covers a variety of disc creation options, but it lacks the polish of more-expensive competitors.
CyberLink Power2Go 7 Deluxe is an evolutionary iteration of this entry-level, reasonably priced disc-burning suite ($50; price as of 10/4/2010) . Unfortunately, while it generally works well enough to get tasks done, I spotted at least one notable bug–and found the marketing ploys throughout the suite annoying.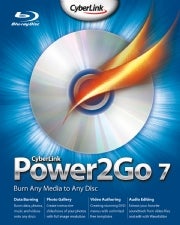 Power2Go packs the ability to write virtually any type of job (data, video, music) to any kind of disc, including high-capacity Blu-ray Discs (BDXL); it can also rip and transcode audio. In addition, it has several new features. The most prominent of these are an ability to do self-executing high-definition photo gallery (slideshow) discs and a stand-alone wave editor for editing audio, but DVD authoring has been improved significantly–to the point where most users won't need a more expensive option. Also new are the ability to view and even extract files from an ISO disc image; a capability to create 128-bit or 256-bit encrypted discs; a new desktop widget for easy access; and support for nVidia's CUDA and ATI's Stream GPU acceleration of tasks. You may also now freely download menu templates for your video discs from CyberLink's DirectorZone.
Though all the older features of Power2Go are mature and well-rounded, I was disappointed in my hands-on with the new photo gallery app. While you may define your own slideshow background, it has only one menu style, only one slide transition, and no templates. Even worse, CyberLink watermarks every slideshow with its logo, though the company has promised to allow its deletion or replacement in an update soon. For the nonce, you can browse to C:Program Files (x86)CyberLinkPower2GoGallery and edit or replace logo.png with your own logo. As it stands, the photo gallery app is good for a quick one-off, and you can export the slideshow to your hard drive, but that's it.
On the other hand, I found the separately-installed wave editor quite facile, and it allows the use of industry-standard virtual instruments and audio (VST) effects plug-ins to expand the effects library. Most users won't need the VST effects, since the built-in effects include speed and pitch shift, reverb, equalization, and noise reduction. You may also record with the app; however, there's no undo, and the WaveEditor and every other music-related app in the suite either hung or crashed on me consistently when I tried to import anything other than MP3 or WMA files. The company said it was investigating the issue.
The ISO viewer is a separately-installed app, as well. Viewing and extracting files from both CyberLink's proprietary .p2i files and industry-standard .iso files worked just fine. All the apps in the suite allow you to export your projects as disc images; however, you must dig into the browse function of the Save As dialog box before you can set the export type to .iso.
The handy desktop widget is attractive and easy to use, and it works in all versions of Windows from XP onward. The widget queues files you want to write to disc and supports separate audio, data, and video jobs; it can also copy discs.
As to those marketing annoyances, they start with CyberLink hounding you to register the software. Only hacking the Registry will disable this behavior if you want to maintain your privacy. The company has promised to revise this behavior in the very near future. The advertising in the burn and about dialog boxes, and the upgrade button (currently grayed out) on the main interface also come across as disingenuous inclusions, at best.
CyberLink has a history of fixing bugs quickly, so by the time you read this, it may have fixed the audio import issue. The bottom line is that the suite works well, and it's much cheaper than the Roxio or Nero suites, albeit less powerful, with fewer options. But it may suit your needs just fine.