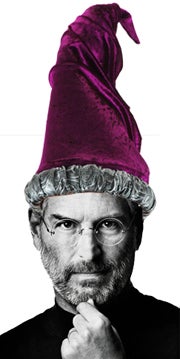 Did Steve Jobs really invent a magical tablet? If consumer adoption of Apple's iPad tablet is any measure of magic than Jobs has reached Albus Dumbledore (of Harry Potter fame) status. According to financial analysts at Bernstein Research Apple's iPad is the most quickly adopted non-phone electronic device ever – beating out adoption rates of the less magical DVD player.
CNBC's Fast Money blog reported Bernstein Research's findings which says the iPad is selling at a rate of about 4.5 million units per quarter (it sold 3 million units in the first 80 days after its release). CNBC's John Melloy wrote: "This sales rate is blowing past the one million units the iPhone sold in its first quarter and the 350,000 units sold in the first year by the DVD player.."
CNBC reports that the Apple iPad is the most quickly adopted non-phone electronic device ever.
In the spirit of full disclosure at least one Bernstein Research analyst is an Apple investor (according to the company's Website PDF) and Best Buy, which began selling the iPad at its retail stores this week, is an investment banking customer of the firm.
iPad Sales Just Keep Chugging Along
If the iPad manages to keep its current rate of 4.5 million units per quarter, it will surpass gaming consoles and cell phones and become the fourth biggest consumer electronics category–that's right, the iPad as a consumer electronics category all by itself–next year. The top consumer electronics categories will remain: televisions, smartphones, and notebook computers.
"The iPad did not seem destined to be a runaway product success straight tout of the box," Bernstein retail analyst Colin McGranahan said in a note to CNBC. "By any account, the iPad is a runaway success of unprecedented proportion," he added.
Compared to the DVD player that was introduced in the late 1990s and was an expensive and untested device with few DVD movies to watch, the iPad at inception easily fit into Apple's ecosystem of content and devices, explains CNBC.
Underestimating the iPad's Success
A "runaway success of unprecedented proportion." Who knew? Back in January, when the Apple iPad was still just "Apple's secret tablet device," there were those that predicted that the iPad would be a "handy entertainment device," and might "kill off dedicated e-readers"–at most.
But become the fastest-selling electronic device in history? Make its own little consumer electronics category, sandwiched in between televisions and cell phones? Dent the netbook market? Of course not!
Looks like early tablet pundits had it wrong. It doesn't matter that the iPad is fragile, awkward, and keyboard-less. Apple really is beating the competition with its magical device.