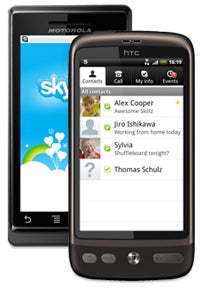 Skype on Tuesday launched Skype for Android, its version of the VoIP software for all phones running on the Google Android operating system. The app, which had been exclusive to Verizon phones, is now available in the Android Market for any Android phone running version 2.1 or above of the OS. The app can make free Skype-to-Skype calls over 3G and WiFi, but if you are in the United States, you will be restricted to WiFi-only calling.
If you have an Android phone with AT&T, T-Mobile or Sprint, you can now enjoy free Skype-to-Skype calls with users of the software on Apple's iPhone for example. The caveat is that while iPhone users can call you on Skype using their 3G connection, you will have to be connected to a WiFi hotspot in order to receive or make calls from your Android phone.
Besides the limitation on calling only over WiFi, Skype for Android is very similar to the app's counterparts on other mobile platforms (iOS and Symbian). After you download the app from the Android Market, you have to sign in with your user account. The app then syncs with your phone's contacts to find if any of your friends already use the service.
Skype for Android supports both voice calls and instant messaging sessions, and integrates with your address book to show you which contacts are online. Skype says it has tested the app with HTC and Motorola devices running Android 2.1, and confirmed that the app does not work with Samsung Galaxy S phones. This is particularly unfortunate because Galaxy S phones are some of the most popular Android phones in the U.S.
Some of the first users of the application are asking Skype to enable the app to be stored on the SD card on Android 2.2 phones, as the app can take up to 16MB of memory. Also, there is no way to close Skype for Android without using a task managing application (the app runs in the background continuously).
Follow Daniel Ionescu and Today @ PCWorld on Twitter.