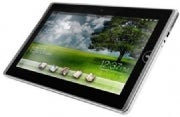 While Apple's iPad runs away with the tablet market, Windows slates are still preparing for battle, with the first wave to appear by Christmas, Microsoft Chief Executive Steve Ballmer said.
"You'll see new slates with Windows on them. You'll see them this Christmas," Ballmer said at the London School of Economics, Reuters reports. "Certainly we have done work around the tablet as both a productivity device and a consumption device."
Tablet watchers could get a taste of what's to come at a Microsoft event next week, on October 11. Although Microsoft intends to focus on Windows Phone 7, unnamed sources tell Neowin that Microsoft will speak briefly about its tablet plans.
Reuters thinks you won't necessarily be able to buy Windows tablets this year. By saying "You'll see them this Christmas," Ballmer could merely be promising specific product details, with 2011 availability.
Then again, Microsoft's been showing Windows tablets since January — notably, HP's slate, which disappeared after HP acquired Palm and might have surfaced recently in a supposedly leaked video. And we already know about other specific devices, such as the Asus EeePad EP121 and the ExoPC. At this point, it's time to see some product launches.
Still, I'm not expecting great things from whatever arrives between now and Christmas. The aforementioned HP slate video, real or not, pointed out the drawbacks of Windows tablets — long start-up times and a mouse-centric interface, to name a couple. Perhaps that's why Ballmer, according to Neowin, isn't promising great things from this first wave. "We're not going to do a major revamp of Windows 7 for slate applications," he said. "That will come in the next version."