For Web site developers and administrators, cloud storage is an increasingly popular alternative to dedicated servers. In most cases, cloud storage is both cheaper and more reliable. Amazon offers the leading solution with their Simple Storage Service (S3). S3 has a robust set of features, but Amazon only offers a Web interface, which can be quite clunky. This is where CloudBerry Explorer (free) comes in: it replicates and improves on the functionality of Amazon's Web interface in a slick standalone program.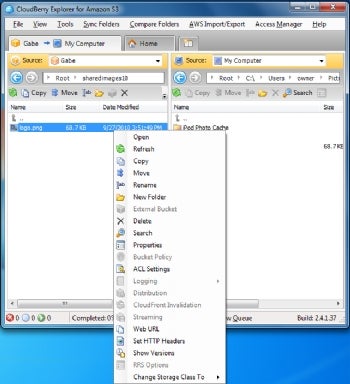 At its most basic level, CloudBerry Explorer acts like a FTP client, with side-by-side file navigation panes so that you can upload local files to S3 buckets (which is what Amazon calls top-level folders) . Of course, you can also download files from S3 to your local machine, or transfer them between two S3 accounts. Another way to upload files is through sync folders; CloudBerry can automatically upload new files to an S3 bucket, and also automatically download new files in a bucket to your local machine. This latter feature is especially useful if multiple developers on different machines need up-to-date local copies of cloud hosted files.
CloudBerry Explorer also offers tools for tweaking files once they are uploaded. You can edit permissions (Amazon calls them Access Control Levels, or ACL) on an individual level, or mass-apply them to a set of folders. You can also individually tweak HTTP headers, and set default values. This makes it easy to manage important settings like cache control.
You may miss some important features if you don't pay the extra $40 for the Pro version. Many people worry about the security of cloud services, and encryption is only available if you pay. The useful option to transfer files between S3 and an FTP server is also only available in the paid version. But even so, this version of CloudBerry Explorer is the best freeware manager for Amazon S3. If you're still using Amazon's Web interface, switch to some version of CloudBerry Explorer now.