Now that the Ceton InfiniTV 4 card has arrived (check out my review), Windows Media Center is back in my good graces. Consequently, I'm back on the prowl for cool ways to trick out Microsoft's couch-friendly interface.
First up: MacroTube. This free add-on, which integrates directly into the WMC menu system, provides easy access to YouTube videos. And not just YouTube, but also DailyMotion and MSN Soapbox (the latter a bit pointless given that Microsoft shut it down a year ago).
After installing MacroTube, just fire up Windows Media Center, then scroll up or down until you find the new MacroTube menu item. Click it, and then choose which of the three video services you want to browse.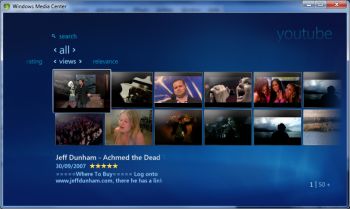 The MacroTube interface looks and works just like WMC's. You can search the catalog or browse by category, rating, number of views, and so on. Click the video you want and presto, it plays full-screen.
I have just two complaints. First, there's no way to tell which videos are HD–and YouTube's non-HD stuff looks mighty grainy on a big-screen TV. Second, MacroTube lacks a Favorites option, which would be ideal for keeping your most-watched videos close at hand. (Likewise, you can't sign into your own YouTube account and access your existing favorites.)
Even so, there's something awesome about kicking back on the couch with all of YouTube at your command. Awesome, and seriously addicting.