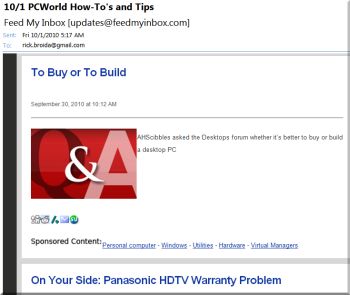 Ever wish you could get PCWorld's awesome How-To section in your inbox every day? Sure, you can subscribe to a PCWorld newsletter, but most of those arrive once a week. You need your daily fix!
Enter FeedMyInbox, a super-cool service that turns virtually any Web site or RSS feed into a nicely formatted e-mail newsletter–one that arrives every day. All you do is paste in the Web address (I tried PCWorld's How-To page) or feed URL of the site you want, then enter your e-mail address.
The next morning, you'll get your first inbox update. That's all there is to it! FeedMyInbox offers a great way to keep up on your favorite sites when actually visiting them isn't an option (like at work).
The service gives you five feeds for free. If you want more, you'll need to sign up for a premium plan; they start at $5 monthly. Doing so gives you a lot more control over your settings, with options like a customized send time and a choice between title-only and full-text feed items.
If all this sounds familiar, you may be thinking of Google Alerts, which also brings daily feeds to your inbox. However, GA works solely with search words and phrases, not specific sites. And its e-mails aren't as nicely formatted as FeedMyInbox's.
Watch YouTube Videos in Windows Media Center
Now that the Ceton InfiniTV 4 card has arrived (check out my review), Windows Media Center is back in my good graces. Consequently, I'm back on the prowl for cool ways to trick out Microsoft's couch-friendly interface.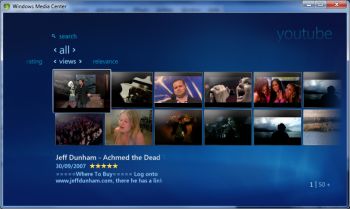 I recently discovered MacroTube, a free add-on that integrates directly into the WMC menu system and provides easy access to YouTube videos. And not just YouTube, but also DailyMotion and MSN Soapbox (the latter a bit pointless given that Microsoft shut it down a year ago).
After installing MacroTube, just fire up Windows Media Center, then scroll up or down until you find the new MacroTube menu item. Click it, and then choose which of the three video services you want to browse.
The MacroTube interface looks and works just like WMC's. You can search the catalog or browse by category, rating, number of views, and so on. Click the video you want and presto, it plays full-screen.
I have just two complaints. First, there's no way to tell which videos are HD–and YouTube's non-HD stuff looks mighty grainy on a big-screen TV. Second, MacroTube lacks a favorites option, which would be ideal for keeping your most-watched videos close at hand. (Likewise, you can't sign into your own YouTube account and access your existing favorites.)
Even so, there's something awesome about kicking back on the couch with all of YouTube at your command–awesome, and seriously addicting.
Create Unique Word Art with Wordle
Looking for some nifty artwork to spruce up an invitation, newsletter, Web page, or the like? Or maybe you just like to have fun with words. Either way, head to Wordle, a Web site that builds stylish, colorful "word clouds" from the words you supply. Here's an example: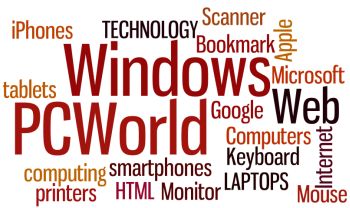 Neat, huh? To use this cool tool, you simply type in a bunch of words. If you want certain words to appear larger than others, repeat them multiple times. You can also paste in the Web address of any Web site that has an Atom or RSS feed.
After Wordle generates your word cloud, you can make changes to the font, layout, and/or color scheme. There's also the Randomize button, which uses different combinations of the three to create new designs.
Wordle is tons of fun to play around with, but keep in mind there's no way to save your finished cloud (except to Wordle's public gallery). If you want to use it for a project or something, you'll have to take a screenshot. You can also print a copy to hang on your fridge. (At least, that's what my daughter's doing.)
If you've got a hassle that needs solving, send it my way. I can't promise a response, but I'll definitely read every e-mail I get–and do my best to address at least some of them in the PCWorld Hassle-Free PC blog . My 411: hasslefree@pcworld.com . You can also sign up to have the Hassle-Free PC newsletter e-mailed to you each week .