Motorola introduced its now iconic Droid handset one year ago. Today, the veteran phonemaker expanded its Android smartphone lineup to 22 models, with five new handsets introduced today–including the Droid Pro, which targets the core audience for RIM's BlackBerry in the corporate marketplace.
With this round of phones, Motorola is emphasizing its view that smartphones are going mainstream. At a launch event before the start of CTIA, company executive Sanjay Jha noted, "We think this will be the beginning of a seismic shift in telephony as consumers switch up from feature phones to smartphones. Motorola is bringing Android-based smartphones to all consumers."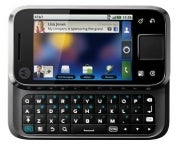 Currently Motorola claims to stand in second place in the smartphone market. The company introduced 17 smartphones in the past month, and today it introduced five new handsets, including the Bravo, Flipout, and Flipside. The company says it plans to provide mass-market smartphones that span the gamut from entry level to early-adopter advanced models. Its own market research indicates that its consumers have different phone preferences depending on their gender and lifestyle.
Droid Pro
Tonight's pre-CTIA event on the eve of the CTIA Enterprise & Applications conference in San Francisco was crowned by the launch of the Droid Pro. With this new Android phone, Motorola sets its sights squarely on the business segment that RIM's BlackBerry platform now dominates. Motorola says that its Droid Pro smartphones will be the first Android devices to offer more security than those running the traditional Android OS.
The Pro will also be the first Android device designed specifically for business. Beneath its 3.1-inch screen sits a physical QWERTY keyboard with distinctive, staggered buttons to promote easy, one-handed typing. The Droid Pro will have a 1GHz processor and will include Adobe Flash and business-friendly options such as an extensive Microsoft Exchange feature set, VPN, and device management capabilities.
It also features a built-in 5-megapixel camera with automatic focus, digital zoom, and a dual-LED flash. The Droid Pro will be available in the first week of November from Verizon.