Apple app overlords on Tuesday permitted Google to offer its Google Goggles visual search application to iPhone users via the App Store. For the iPhone masses unfamiliar with Google Goggles, this app is a very ambitious attempt by the search giant that allows you to – instead of typing your search terms – take a photo of the object you want to look up. Google then analyzes your photo and, providing it can recognize what you're taking a picture of, spits back appropriate information.
It sounds amazing. And it kinda is, but Google Goggles has big limitations as I found when I tested the application out on my iPhone 4.
Is a Picture Really Worth a 1000 Words?
Depending on the object you take a photo of, Google Goggles will give you different options–if it's a book, it will give you information on how to purchase it; if it's a landmark, it will give you information on the location; if it's a business card, it will let you put the information into your contacts.
In theory, it's a pretty handy feature. However, people, animals, and cars are not recognizable (as it warns you in the instructions), but landmarks, books, contact info, artwork, wine, text, and logos are. This is a little annoying, simply because it's unlikely that I'll come into contact with objects in any of those categories (save for artwork and maybe landmarks) where there will not be text that I could theoretically use to search.
A visual search more similar to the music search "Shazam" (which allows you to identify songs, even if there are no words you can use to "look it up") would be much more desirable.
Testing
It had no trouble with books–I used it to identify Flatterland by Ian Stewart and Professional Blackjack by Stanford Wong.
It also had no trouble identifying my Diet Coke can, providing the photo was not taken at an artistic angle. When I took a photo of the Diet Coke at a straight up-and-down angle, it found the logo ("Diet Coke"), but when I tilted the camera to the side just a little, it couldn't find it.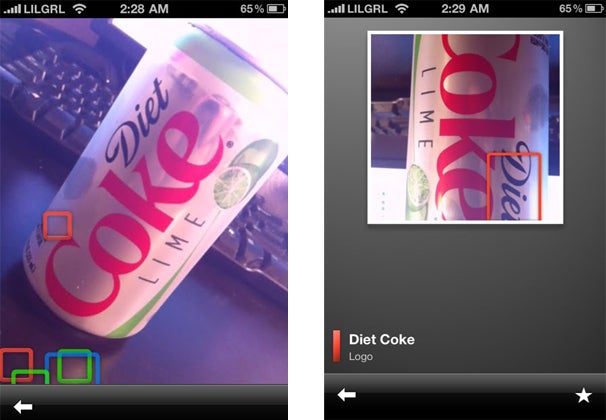 Well, books and logos can be easily identified by the text within them, so let's try something a little tougher. I don't have any famous artwork lying around my office, so I looked up this photo of Caravaggio's Judith Beheading Holofernes on my computer. Google Goggles managed to identify the painting accurately, even though taking a photo of a computer screen with my iPhone meant that the picture was washed out and detail-less. Impressive.
So it looks like Google Goggles for the iPhone, which is now available via the Google Mobile iPhone app, is actually quite good at doing what it says it does. Unfortunately, it still can't identify people, animals, or cars (I tried to identify my very distinctive clownfish–didn't work), but they're definitely getting there.
In other news, it looks like Google and Apple are finally making up–first, an official Google Voice app finally makes its way into the App Store, and now Google Goggles (a feature which Google debuted for its own mobile operating system, Android, nearly a year ago).