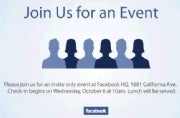 Look! Up in the sky! It's a phone! It's a Skype partnership! It's more Places! Or maybe it's a Facebook redesign! The rumor mill is in overdrive trying to figure out what Facebook has planned for its press event today. Some users are saying they have a new version of Facebook chat featuring larger profile pictures, suggesting an interface redesign is in the works. But could there be more to Facebook's announcement? Here's the latest buzz.
Facebook Redesign
At least one of the big announcements today might be a fresh coat of paint for your Facebook profile, according to TechCrunch. It's not clear what those changes might be, but the blog says your profile page could be redesigned to look more like Facebook's Places pages. One resulting change might be that your profile's customizable tabs at the top could disappear and be moved to the left column. It's not clear whether your dashboard, where most of your Facebook activity happens, will see any changes other than the reported revamped chat interface. Facebook also recently rolled out new features for its Photos service including a revamped interface and the ability to upload higher-resolution images.
Facebook engineers have reportedly been on what the company calls "Lockdown" for several months to get the purported redesign ready. While a Facebook redesign sounds plausible, the social network has never called a press event for something so basic. So what else could Facebook have planned?
Telephony tales
Some are resurrecting the idea that Facebook may announce a secret mobile device. However, the company has pretty much denied that it's working on a Facebook-branded handset.
There are reports, however, that Facebook and Skype have been in talks to integrate their two services, according to All Things Digital. New services rumored to be on the docket include video chatting and text messaging with your Facebook friends. All Things Digital reports the two companies are "poised to announce" the partnership soon.
Places
Some are saying Facebook has taken a trick out of Apple's playbook by placing a vague hint in the press event invite. "Please join us for an invite-only event," the invitation reads. "Check-in begins at 10 am."
The mention of check-in has set off speculation that Facebook might want to talk about Places, the company's location-sharing service. It's not clear what the company might have to announce, perhaps the ability to add photos to your check-in or even Places availability in more countries. Places is available in the United States, the United Kingdom, Canada, France, Japan, Australia and Italy, according to Inside Facebook.
Events
A vague reference to Places may not be the only hint in Facebook's invite. The blog All Facebook notes that the title of the invite is "Please Join Us For An Event." The blog says it has been expecting Facebook to unveil a revamped Events service, and today's announcement may be the day. A new Facebook Events, according to All Facebook, could include an RSVP widget that event producers would integrate with their websites similar to using "Like" buttons and other types of third-party Facebook integration.
So that's the latest speculation and rumor about Facebook's event. No one knows for sure what Facebook has planned, but many expect it to be at least two hours long since the event starts at 10 a.m. and Facebook is serving lunch to those in attendance.
Connect with Ian Paul ( @ianpaul ) and Today@PCWorld on Twitter for the latest tech news and analysis.