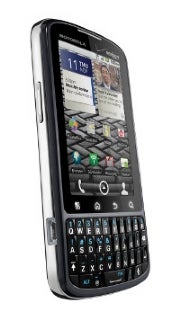 Motorola on Wednesday announced its business-savvy Droid Pro smartphone, which will tackle head-on the BlackBerry Torch from Research In Motion. The phone has a full QWERTY keyboard, and will arrive on Verizon's network for an unannounced price sometime in November. The Droid Pro features some beefy specs alongside Android 2.2, but how does it compare to the other QWERTY phones from the other carriers?
[QWERTY Smackdown: To see how the Droid Pro compares to the BlackBerry Torch, Sprint Epic 4G, and the T-Mobile G2 click here to see a comparison chart.]
The Droid Pro on Verizon, BlackBerry Torch on AT&T, Epic 4G on Sprint, and T-Mobile G2 combine a roomy touchscreen with the comfort of a full QWERTY keyboard for easier texting and emails. While BlackBerry -maker RIM still enjoys a lead in the smartphone market, powerful Android phones like the Droid Pro are pushing the limits of what a business-savvy smartphones can do.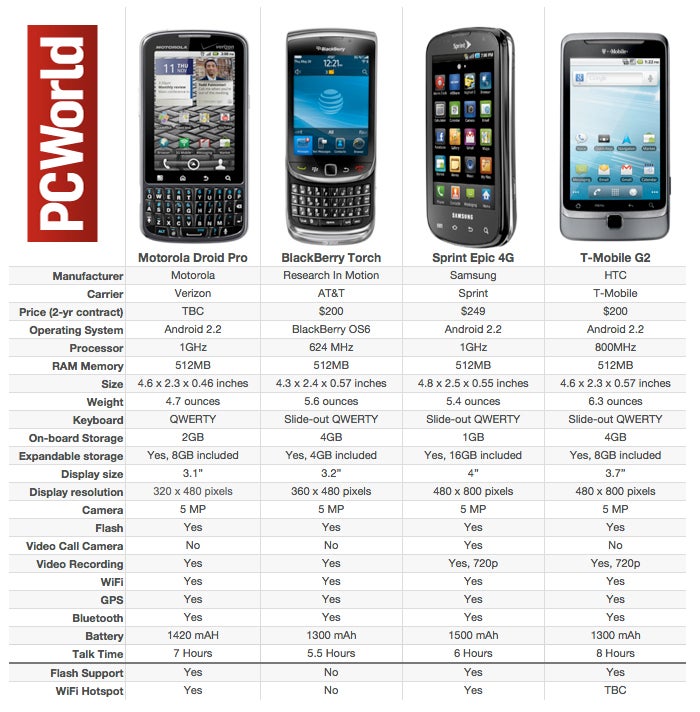 Unlike the BlackBerry Torch, the Droid Pro doesn't have slide-out keyboard, but sports a candy-bar form factor, with the keyboard under the 3.1-inch screen. Because of the sliding mechanism, the Torch's screen is slightly larger, but the display resolution of the two phones is almost the same. The Droid Pro is lighter and thinner than the Torch, and also features a faster processor.
The Droid Pro otherwise has standard specifications among other phones in its category. As with the Torch, the Epic 4G, and the G2 from T-Mobile, the Droid Pro has 512MB of RAM memory, a 5-megapixel camera with flash, Bluetooth, WiFi and GPS. Compared with these smartphones, the Droid Pro is the lightest at 4.7 ounces, while the T-Mobile G2 is the heaviest at 6.3 ounces.
The Droid Pro also has several advantages over the BlackBerry flagship Torch. The battery has a higher voltage, claiming up to 7 hours of calls (almost two hours more than the Torch), and because of Android 2.2 it can also display Adobe Flash elements in its browser. Like most Android phones, the Droid Pro can also share its 3G Internet connection with up to 5 other devices via WiFi, something which the Torch is not capable of.
Will you chose a Droid Pro over a BlackBerry? Sound off in the comments.
Follow Daniel Ionescu and Today @ PCWorld on Twitter.