Laptop sales are decreasing, and it looks like the iPad is to blame. It's well known that the iPad has essentially destroyed the netbook, plummeting its sales into the negative, but now tablets are eating away at higher-end and less-portable laptop sales.
The NPD Group estimated that U.S. laptop sales rose 12.3 percent in the first eight months of 2010, which sounds good, but was dramatically less than the 30 percent growth of the year-earlier-period. Laptop sales also dropped 1 percent in July and August 2010 — the peak of back-to-school shopping season, as the Wall Street Journal notes.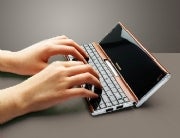 Blaming the iPad for the computer industry's woes is the hippest thing to do nowadays, especially when sales numbers are compared to Apple's. A Morgan Stanley/Alphawise study conducted in May showed that 44 percent of U.S. consumers who planned to buy an iPad were doing so in lieu of a netbook or notebook PC. Forrester Research also found that 14 percent of U.S. online customers plan to buy a tablet computer within the next 12 months, ahead of the 13 percent planning to buy a laptop, 11 percent planning to buy an e-book reader, 8 percent planning to buy a netbook, and 8 percent said to be planning to buy a desktop computer. The iPad is not a fad. At least for now.
In fact, the iPad is now the fastest-selling electronic device ever, and with Apple's competition all building tablets — including RIM's PlayBook, Samsung's Galaxy Tab, Toshiba's Libretto, Dell's Streak, among others — the tablet market is set to inundate consumers with more choices, especially Android options. Android just became the most prominent smartphone OS, and more and more Android-powered tablets are being released or announced. While there is no such thing as an iPad killer — just as an iPhone-killer does not exist — Android might keep Apple up at night.
But the more options consumers are given, the more this situation looks like the rise and fall of the netbook. Not too long ago, netbooks were the must-have item. Then the tablet rose to prominence, and now retailers can't sell netbooks fast enough. It's hard to tell whether the tablet frenzy will mimic the now-faded netbook fad, but it would be wise for companies not to break their backs building tablets, lest they produce another JooJoo-esque embarrassment.