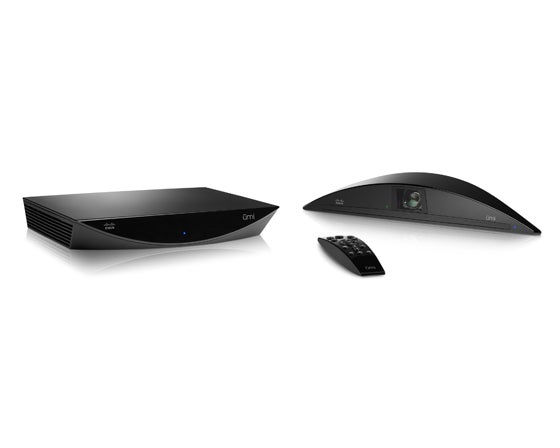 Cisco's Umi Telepresence (that's "you-me") hopes to bring enterprise-level, 1080p video conferencing to your living room. Free video chatting services abound, but Cisco hopes to one-up the competition by providing a superior, high definition experience, right on your living room TV.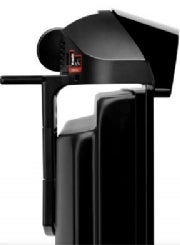 The Umi's HD camera sits on top of your television, affixed in place by an adjustable mounting bracket, so thinner HDTVs can get in on the action too. A simple remote control handles placing video calls and navigating the Umi's slick Clover UI, while a set-top box tackles video streaming and audio decoding duties. This box can connect to your home network wirelessly, but there's a good chance you'll want to tether down with an ethernet cable, or risk the pitfalls of a finicky wireless connection.
Once you're up and running, the Umi will stream full-screen 1080p HD video to whomever is on the other end–provided they're equipped with the same hardware. You'll be able to place and receive video calls on Webcam-equipped PCs by way of Google's video chat, but these are limited to 480p video, and won't be fullscreen. Fans of Skype and Apple's iChat are out of luck, for now.
Perhaps the most striking caveat is the price: $599 gets you all of the hardware, but there's also a $25 a month subscription fee. You're getting unlimited Umi video calls, video messaging, and video storage via Umi's cloud service (more on that in a bit), but that's quite a price tag for functionality that's already available for far less–if not entirely free.
Why choose Cisco's Umi over your laptop's Webcam, or a cheap Webcam strapped onto your display? Cisco's banking on delivering an unparalleled user experience. And to be fair, it was fairly impressive. Tapping the Clover button on the remote places a cross-shaped widget onto the top right corner of the TV screen. Contacts are saved onto your umi account. You can choose them directly from the Clover's menu, or dial them directly — every device is assigned a unique, 6 digit number. You can also enter a Google email address, if you're calling a Google video chat user.
Calling works much like a telephone. Cisco sat us in a faux-living room, and we called a Cisco employee, Lily, at her home. We picked her image from the list of contacts, and after a brief ring or two, the television show we were watching quickly snapped over to the video call. Video quality was clear, though colors–particularly my dark red shirt–appeared a bit oversaturated. But good luck blaming the camera when your mother complains about your washed out clothing. The camera has a fairly dynamic range of control; panning, tilting, and zooming is speedy, and there's a great level of detail. The auto focus functionality was a bit slow, but it worked well enough.
Audio quality was adequate, but not quite stellar. An array of five microphones is built into the face of the camera. I could hear Lily fairly clearly, though she sounded distant. There was also a fair bit of echoing throughout the call. This isn't necessarily the fault of the hardware: Lily was sitting in a cavernous living room, but the background environment is a major point of concern. The device also lacks an input for an external microphone, so you're stuck with the camera's limitations.
While the hardware was on display, the real star of the show is ultimately Umi's cloud service. That $25 a month fee may be steep, but this includes unlimited video storage. If you aren't near your TV or choose to ignore a call, callers will see a video message–much like voicemail, or an answering machine. They'll be able to leave a video message of their own, yammering for as long as they'll like.
You'll be able to view this message the next time you're at your television, or on the web, through umi's web portal. Notifications will also be pushed to mobile devices, so you'll know whenever you have a new message waiting. You can also send video messages of your own, recording HD video with the umi camera and posting clips to sites like Facebook and YouTube, or directly to other umi users.
As it stands, Cisco's Umi has its work cut out for it. While everything sounds impressive on paper, my admittedly limited interaction with the system has left me wondering how it improves upon hardware that's readily available. Webcams are ubiquitous nowadays – good luck getting a laptop or netbook without one. And the latest generation of smartphones (and tablets) are slapping cameras right up on the front.
Skype, iChat, and Google video calls can be made for free. You won't be able to stream these video calls onto your TV without a bit of legwork, but unless you've convinced your family and friends to shell out $600, and cover the subscription fee, they'll be chatting with you on their laptops anyway. The video messaging service has its perks, but your cell phone can likely post a video to YouTube just as well. It might not be in 1080p, but you can probably use the cash you'll save to visit your family in person.
There's sure to be a market for Cisco's Umi Telepresence–broadband-equipped chatty parents are likely going to love this, much to the chagrin of family members who've fled the nest. But while HD video conferencing might be a hit in the business sector–Cisco claims there are 1 million people using their service every day–families with less discretionary funding might not be ready to drop their hard earned money on the novelty of video calls–even if they are on the big screen. Cisco's Umi Telepresence launches on November 14th, but you can preorder yours right now.