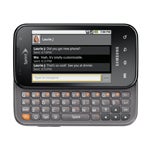 Sprint brings Android smatphones to the masses with the introduction of three budget-friendly Android phones here at CTIA. Phones include LG Optimus S, Sanyo Zio and the Samsung Transform. The three phones will be first to take advantage of a new Sprint app program called Sprint ID, also announced Wednesday.
Sprint ID Explained
Sprint ID is a new offering that packages mobile apps into collections designed for personality types such as sports fans, fitness fanatics, or auto enthusiasts. The packs can then be downloaded by Sprint customers and with one installation Sprint IDs create a suite of apps, widgets, ringtones, and wallpaper that reflect their interests.
Sprint ID does the legwork for you by selecting apps, ringtones and videos based on your preferences. The Sprint ID is also constantly updating your pack with new content. Sprint is working with a handful of content partners including E! Online, MTV, HSN and others.
Sprint ID: A Dud?
While Sprint ID might be useful for first-time smartphone owners, I can't help but think that it takes the fun out of app discovery. As frustrating as the Android Market can be, I like being able to browse through it and see which apps are hot and give them a spin.
The three new phones will be available through a variety of distribution channels including Radioshack. We will be getting first-hand looks of these phones on the show floor so stay tuned for our first impressions.