Facebook's new features will fundamentally change the way many people use the site. Revamped Groups and a control center for third-party applications will reassure users who want to play on Facebook without accidentally oversharing with the wrong audience.
The changes offer more control over who sees your activities and how applications access your profile, in addition to letting you zip up and download all your messages, videos, photos, and wall posts.
Facebook's 500 million users will see the new features roll out gradually, starting today.
Facebook's applications dashboard will let you control and remove apps in one location.

Applications Dashboard
A new way to manage third-party Facebook apps combines two previously separate screens in one place. You can see the permission you've granted to an app as well as a log of when it last accessed your information.
This looks like a strong step forward in helping Facebook users understand the default settings, which vary from app to app, and decide whether something feels safe or intrusive. For example, the control panel will indicate whether an app requires viewing your friends' information as well–such as with a birthday calendar.
Facebook touted this feature not only as offering more choice and transparency for users, but as encouraging app developers to be more judicious in how they treat users.
Downloads
For the first time, if you're disgruntled enough with Facebook, you can walk away forever without losing your history, packing the record of your activity–including mobile uploads–as a Zip file on your hard drive.
"It's our core belief that people should own and be able to control their information in Facebook," said CEO Mark Zuckerberg. "We view this as a philosophical thing."
The change may represent a shift away from Facebook's privacy stumbles of the past, such as the Beacon online ad system, which targeted non-Facebook users several years ago, and the service's former policy of not letting users delete their accounts.
Because the possibility of downloading so much sensitive data could be appealing to scam artists, Zuckerberg noted that the steps of the process will include password and e-mail verification, and will flag any request coming from an unusual location. He also cited Facebook's "social captcha" system, which verifies suspect users' identities by asking them to identify "friends" in photos.
Groups
The new Groups feature allows a walled garden for sharing basic text documents, managing events, and chatting with up to 250 people at the same time. Groups includes a text editor (Docs) that offers extremely basic formatting options–Google and Microsoft have nothing to fear, at least for now.
You can, for instance, create a group for family members, another for coworkers, and another for people you haven't seen since kindergarten. This should make Facebook more fun, if you've found lately that the more awkward "friends" you've accepted, the less freely you've been communicating there.
There are three options for groups. The default, Closed setting hides content from anyone who doesn't belong. Making a group Open, on the other hand, means that the world–even outside of Facebook–can see what your group is up to. Labeling a group Private is a "Skull & Bones" option; nonmembers can't view your activities and can't even see that your group exists.
Facebook says that only 5 percent of its users make friend lists, which offer basic but plodding controls for opening or blocking parts of a profile to designated "friends." The revamped Groups feature is likely to change that. Once you establish your social groups, you can share or hide things from each cluster in one fell swoop.
Facebook's Shift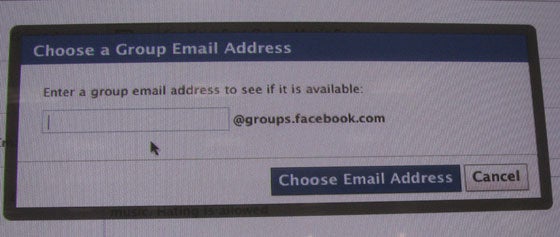 On the surface, Facebook's changes offer new freedom and control for individuals. That's not the whole picture, however, and there are some confusing points.
For example, the old Groups will continue to exist alongside the new features of the same name, but why and for how long? Also, it's unclear how the changes will affect businesses that rely on Facebook pages.
Unfortunately, though you can share individual images among the groups, you can't do the same with photo albums. Wouldn't you like to hide awkward seventh-grade class photos you're tagged in–or snapshots of last weekend's bachelor party–from key "friends"?
Oddly enough, the new Groups feature may subject you to the whims of other users who can add you without getting your permission to do so. Imagine suddenly finding that fans of a political candidate you loathe have included you in their club. Once you ask to leave the group forever, however, its members can't continue to add you.
Some users may find it annoying to receive notifications each time a message is posted to a group wall, but you can opt out of such alerts.
The emergence of private Group spaces will mean more channels within Facebook for users to share, with social circles being broken into smaller, self-defined categories.
If more users hide activities behind closed Groups that they would previously have broadcast broadly on Facebook, nosy relatives, advertisers, and curious onlookers may find themselves shut out of a newly cliqueish virtual world.
That's great if you're wary of sharing too much information, but it also changes the character of a site that has offered a sort of freewheeling, stream-of-consciousness way of learning about "friends" on walls and via news feeds. Facebook may evolve into an ecosystem or "social platform" of communities that are more self-segregated than in the past. In any case, maybe it's time for Facebook users to judge each other by the content and character of their groups rather than by the sheer number of their friends.
Follow Elsa Wenzel and TechAudit on Twitter.