Airlines have been charging fees for seats on the emergency aisle, priority boarding, and anything resembling baggage, so it's no surprise that cheap or free Wi-Fi access isn't a typical frill. But with one in three U.S. planes providing wireless Internet access, we looked at the going rates for going online in the clouds.
Gogo Inflight Wireless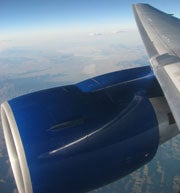 The major player is Gogo Inflight Wireless, a wireless provider that serves 15 airlines including AirTran, Alaska, American, Delta, Frontier, United, US Airways, and Virgin America. It was started in 2008 by Aircell.
Gogo offers different rates based on the length of the trip: from $4.95 for a single flight of up to 90 minutes, $9.95 for a flight lasting between 90 minutes and 3 hours, and $12.95 for a flight longer than three hours.
However, frequent fliers can buy discounted access from its Website, where a Gogo 6 Pack of six flights will cost $49.95. That's a $10 to $27 savings on flights lasting either 90 minutes or more than 3 hours long.
Gogo also offers an $11 pass for 24 hours and a $29.95 pass lasting 30 days, but each can only be used on a single airline. After an introductory $19.95 month, monthly service costs $34.95 a month, letting you use the pass with any airline with Gogo service. A one-time, 30-day pass for $39.95 also can be used with any Gogo-equipped airline.
Wi-Fi for mobile devices is also available on a 30-day pass for $19.99, but FCC regulations and airlines do not permit voice calls or VoIP in the air– all of which aren't supported by Gogo. Some airlines also curb the usage of mobile devices and their peripherals.
Even if your airline advertises Wi-Fi, not all flights will be equipped, and Gogo's coverage only works in the continental United States.
My experience with Gogo on a transcontinental flight from New York to San Francisco was that it was a little slow, but what else was there to do?
Best Buy : The $49.95 Gogo 6 Pack, which works on any six flights.
What's Free : Use Wi-Fi hotspots available for free at many airports–or your tethered cell phone or portable hotspot–and spend the flight reading, playing games, or sleeping.
What Each Airline Offers
American Airlines
Gogo Wi-Fi is available on all Boeing 767-200 and select MD80 and 737 flights.
Delta Air Lines
Gogo Wi-Fi is available on most flights, but look for the Wi-Fi onboard sign or ask at the gate.
JetBlue
JetBlue is the only carrier offering anything free, although it's not what you typically think of as Wi-Fi. JetBlue's BetaBlue, an Airbus A320 used on some transcontinental flights, provides access to e-mail accounts and allows passengers to shop on Amazon.com, but there's no surfing the Internet. Sure, it's not a lot, but it's free.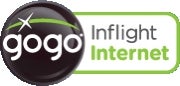 Southwest Airlines
Southwest has partnered with Row 44 to offer satellite-delivered broadband Wi-Fi, which isn't available on all planes. Prices range from $2 to $12 per flight, depending on distance and device, and content is filtered. They also don't permit bandwidth hogs, so passengers will likely not be able to download video "to preserve a high quality experience for all users onboard."
United
Gogo Wi-Fi is available on all premium transcontinental flights between John F. Kennedy International and Los Angeles International or San Francisco International airports. If you are not going from New York to California, you may be out of luck.
Virgin America
Gogo Wi-Fi is available on all flights.
What to Choose
Inexpensive Wi-Fi onboard flights is limited, but opportunities outside of the plane are numerous. Check all your online data on your tablet, laptop, or smartphone at the airport before boarding, and in many cases you won't pay a cent.
But if you are planning to use in-flight wireless service for Internet access, you might want to visit Gogo Inflight's Website for any potential discounts before you step aboard. The service also broadcasts savings to its Twitter followers and Facebook friends, and third-party coupon sites offer discounts.
Reach or follow Barbara E. Hernandez on Twitter: @bhern.