Facebook held a media event yesterday to unveil upcoming changes to the social networking site–most notably the addition of Facebook Groups to enable sharing and communication in smaller clusters of users and provide better privacy control. The changes to Facebook also illustrate how Facebook is evolving to be an online business platform comparable to Google.
The drive behind Facebook Groups is to enable users to share and communicate in smaller cliques without fear that a boss or co-worker might see how much time is spent playing Farmville, or that a parent might see how crazy that party was last weekend. The concept shows that Facebook understands that social networking is a tightrope between sharing and privacy, and that users need to be able to control access to personal information.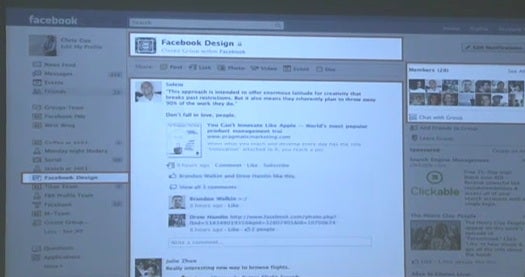 The fringe benefit of Facebook Groups is that it strengthens Facebook as a business platform, and makes it a more formidable competitor against the array of Google online tools. Facebook already provides an online platform for sharing information. It has functionality to enable messaging to individuals or groups, and it has instant messaging.
The recent announcement of an alliance with Skype will expand its value as a communications platform to include VoIP and video chat. Its partnership with Microsoft enables users to have access to online productivity tools through Docs.com.
Facebook Groups will enable businesses to organize and structure how information is shared. There can be groups for the business, specific teams or projects within the business, partners, suppliers, and so on. Facebook Groups provides a platform for businesses to share and collaborate, while also restricting the audience for the information and protecting it from unauthorized access.
Combining all of these features and benefits with the fact that Facebook has more than half a billion members, and that it has surpassed Google as the online destination where users spend the majority of their time, it makes sense for businesses to have a Facebook presence. Facebook is part online productivity and collaboration tool, part marketing and public relations tool, and part communications platform–and it's all available for free.
The politics and strategy of technology can be simultaneously intriguing and confusing. It's like taking the classic game of chess and turning the square board into a hexagon or octagon and trying to outwit and defeat multiple opponents simultaneously. The world used to be simple: everyone against Microsoft. Now, all of the lines are blurred and everyone is taking on everyone in a free for all cage match.
Sometimes those challenges are overt and direct, and some just sort of happen over time. It seems that the value of Facebook as a business tool falls into the latter category. Facebook is focused on being a dominant social network, and it is simply serendipitous that its evolution yields benefits that businesses can capitalize on as well.